Devastating landslide in Uttarakhand: WATCH 3-storey hotel collapse in seconds; video goes viral
A tragic hotel collapse during a landslide in Rudraprayag, Uttarakhand, amid torrential rains, leaves devastation, loss of life, and a community grappling for recovery.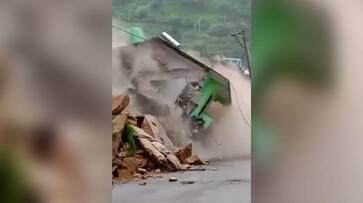 In the city of Uttarkhand's Rudraprayag, a well-known stopover for the Kedarnath Yatra pilgrimage, a devastating incident unfolded as a three-storey hotel crumbled within seconds due to a powerful landslide. This catastrophic event occurred in the Rampur Market locality and was triggered by the relentless torrential rains that have been battering the region. The result was not only a structural collapse but also a profound loss of life and widespread destruction.
Tragically, the landslide claimed the lives of three individuals, while an additional seventeen people are currently unaccounted for, raising concerns about their well-being and safety. The chaos that unfolded was captured on video, revealing a scene of sheer panic as massive boulders rained down, causing people to scream and scramble in frantic attempts to escape the impending disaster. In an alarming sequence of events, the building disintegrated before the eyes of onlookers, shrouding the area in thick clouds of dust.
In a heartening twist, the hotel's evacuation had been carried out proactively, preventing further loss of life among its occupants. However, the destructive force of the landslide spared little else in its path. The Rampur Market area bore the brunt of the devastation, with not only the hotel but also numerous houses, hotels, and roads left in ruins. The relentless fury of the elements transformed a once-thriving locality into a scene of devastation and ruin.
Local residents faced a stark choice as the calamity unfolded – fleeing for safety or documenting the unfolding tragedy. As the ground gave way and structures crumbled, the sight of people running for their lives became a somber reminder of the unpredictable power of nature. With the landslide's aftermath, the community now faces the daunting task of recovery and rebuilding, grappling with the immense loss while seeking to restore a semblance of normalcy to the ravaged area.
The incident in Rudraprayag serves as a stark reminder of the fragile balance between human habitation and the forces of nature, underscoring the importance of preparedness, vigilance, and swift response in the face of such disasters. As the community mourns the lives lost and assesses the extent of the damage, it is a somber moment that highlights the resilience of the human spirit in the midst of adversity.
Last Updated Aug 8, 2023, 9:24 PM IST