Darshan Hiranandani's explosive claim: TMC MP Mahua Moitra targeted Gautam Adani to malign PM Modi
Darshan Hiranandani has made a startling claim that Trinamool Congress MP Mahua Moitra provided him with her parliamentary login ID to frame questions against the Adani group. This revelation has raised significant concerns, potentially constituting a breach of parliamentary privilege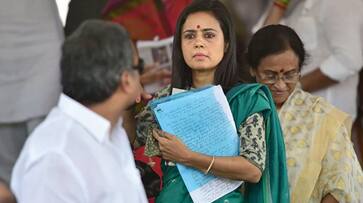 In a sensational affidavit, businessman Darshan Hiranandani made a startling claim involving Trinamool Congress MP Mahua Moitra. Hiranandani alleged that Moitra had entrusted him with her parliamentary login ID, with the intention of formulating questions related to the Adani group. According to Moitra, this was the "only way" to target Prime Minister Narendra Modi. This revelation poses a significant challenge for Moitra, who is currently embroiled in allegations from the BJP. They accuse her of accepting financial benefits and favours from Hiranandani, the head of the Hiranandani group, to undermine her business rival, the Adani Group, and have called for her suspension from parliament.
The claim that Moitra shared her parliamentary login ID could potentially constitute a breach of privilege, a factor that may result in a suspension order against her. In a signed affidavit, accessed by the Asianet News Network, Hiranandani acknowledged using Moitra's parliamentary login to pose questions aimed at the Adani group. This action followed the Indian Oil Corporation's decision to book capacity at Adani's Dhamra LNG import facility in Odisha, instead of Hiranandani's planned facility.
Hiranandani, who finds himself embroiled in the "cash-for-questions" controversy surrounding Moitra, explained that he submitted the affidavit because the situation directly concerns him and has evolved into a political controversy, involving the Parliamentary Privilege Committee and the judiciary.
In the three-page affidavit, Hiranandani admitted to certain aspects that align with the bulk of the BJP's accusations against Moitra, including sharing her login ID and accepting favors from him. However, it does not address the primary charge against her -- posing over 50 parliamentary questions on behalf of the Hiranandani Group to undermine its business rival, the Adani Group. The affidavit suggests a narrative that Moitra believed that the most effective way to target PM Modi was by attacking Gautam Adani, and she anticipated support on this front. 
"She was advised by her friends and advisors that the shortest possible route to fame is by personally attacking Modi," the affidavit said, adding, "As was her wont, she thought that the only way to attack Modi is by attacking Gautam Adani and his group as both were contemporaries and they belong to the same state of Gujarat." 
To facilitate this, she provided her parliamentary login ID so that Hiranandani could draft the questions, as stated by Hiranandani. He went along with this plan because he believed that, through her, he would garner support in states ruled by the Opposition.
Hiranandani also asserted that Moitra received support from various quarters, including journalists, Opposition leaders, and former employees of the Adani Group. He further claimed that the Trinamool MP was a dominant and ambitious individual who made several demands for "various favours." To maintain her support, he accommodated her requests, which included expensive luxury items, assistance in renovating her officially allocated Delhi residence, travel expenses, and holidays.
"I felt that she was sometimes taking undue advantage of me and pressuring me to do things I didn't want to do, but I had no choice due to the aforementioned reasons," the affidavit disclosed.
Last Updated Oct 19, 2023, 10:52 PM IST