Cauvery dispute: CWRC meeting scheduled for today
A crucial Cauvery Water Control Committee meeting is scheduled amid Karnataka's drought, with the state hoping to avoid further water releases to Tamil Nadu. Karnataka plans to reiterate its stance during the meeting, chaired by Vineet Gupta, and decisions will be recommended to the Cauvery Water Management Authority. The previous two meetings recommended periodic 5,000 cusecs water releases, which had sparked objections from the state.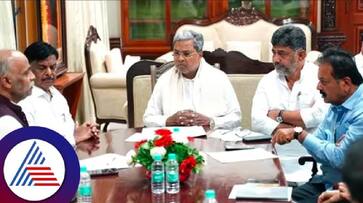 A crucial meeting of the Cauvery Water Control Committee (CWRC) is scheduled for Tuesday to address the controversial issue of Cauvery River water distribution. Against the backdrop of a severe drought in the state, Karnataka is fervently hoping that the committee will refrain from ordering further water releases to Tamil Nadu this time.
The Karnataka state government, having conceded with two prior orders from the committee, intends to repeat its argument in the Supreme Court that releasing additional water is simply not possible. This affirmation of the state is anticipated at today's meeting. 

Bengaluru bandh over Cauvery water dispute hits normal life today
Representatives from the Cauvery Irrigation Corporation in Karnataka will participate in this crucial gathering, which will be chaired by Vineet Gupta, a member of the Central Water Commission. The decisions taken in this meeting will thereafter be recommended to the Cauvery Water Management Authority.

Pro Kannada activists urge Sandalwood actors to voice their opinions on Cauvery dispute
The previous two committee meetings had recommended the release of 5,000 cubic feet per second (cusecs) of water to Tamil Nadu every 15 days. This directive was upheld by the Cauvery Water Management Authority, prompting both Tamil Nadu and Karnataka to voice their objections before the Supreme Court. During a hearing held on September 21, the court clarified that it would not intervene in the authority's order and adjourned the proceedings for a two-week period.
This meeting has high significance against the backdrop of the ongoing Bengaluru bandh, which has been called to protest the Cauvery water release to Tamil Nadu. The bandh is expected to hit normal life in the city.
Last Updated Sep 26, 2023, 10:09 AM IST