Blame game continues: Congress leader takes a dig at BJP state president Kateel, 'he had affair with woman'
Karnataka Congress spokesperson has made a controversial remark in response to BJP's Nalin Kumar Kateel's drug jibe at Rahul Gandhi. M Lakshman said Kateel had an affair with a married woman and later blackmailed her husband. He also termed the BJP chief as a 'cheap' person.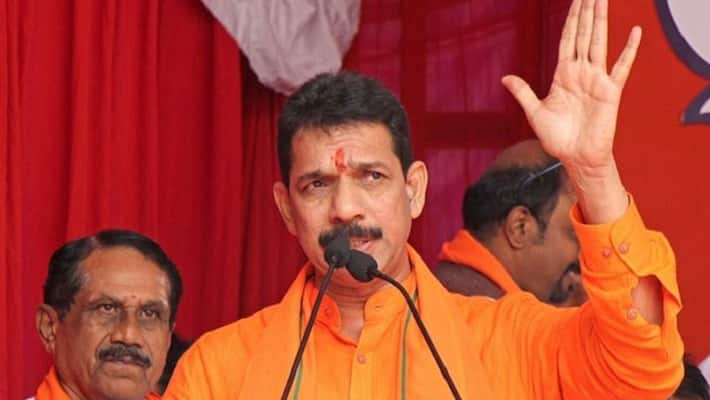 After calling BJP president Nalin Kumar Kateel a 'pimp', the Karnataka Congress termed him as 'uncultured brut'.
Talking to a press persons to condemn Kateel's drug jibe at Rahul Gandhi a few days ago, M Lakshman, KPCC spokesperson brutally targeted Kateel by alleging that the BJP leader had an affair with a married woman.
Going public about the allegation, Lakshman said that in 2014, Kateel on the pretext of marriage had an affair with a married woman and also blackmailed her husband. He said the woman had appeared on a TV channel and made these charges against Kateel.
Suspecting Kateel's role in the murder of a man named Vinajay Baliga in coastal Karnataka as the BJP leader is a close friend of the main accused Naresh Shenoy, Lakshman cornered him and also warned BJP state chief from making controversial statements against Congress leaders in the future.
Also read: BJP MP Hedge objects to Aamir Khan's Diwali crackers ad, asks Ceat to make ads on blocking roads for Namaz
It seems as the election date is nearing for Sindagi and Hangal is witnessing a triangular fight between Congress, BJP, and JD(S) for by-elections. Yesterday, the Karnataka Congress stirred a controversy with his comment against Kateel on Twitter. The INC Karnataka had called Kateel a 'pimp'.
What is worse is despite criticisms against political leaders from the public as well as senior leaders for such comments, such frivolous and unwarranted statements are deliberately made by leaders.
BJP in a tweet had attacked Kumaraswamy by calling him a 'bigamist' and ridiculing and indirectly taunting him about his personal life. The response by BJP against Kumaraswamy comes after he attacked RSS and accused the organization of systematically infiltrating into Indian bureaucracy.
Earlier, ex-CM Siddaramaiah had called RSS and BJP as terrorist organizations and compared them with Taliban and Hitler's family. Following the statements, BJP leaders held a massive protest and also condemned Siddaramaiah.
Last Updated Oct 21, 2021, 9:22 PM IST