Aluva rape and murder case: 'Court's verdict a strong warning to offenders,' says CM Pinarayi Vijayan
Aluva rape and murder case verdict: Chief Minister Pinarayi Vijayan hailed the court's verdict awarded to convict Ashfaq Alam and said that this a strong warning to all offenders.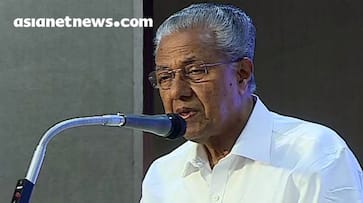 Kochi: The Ernakulam POCSO court on Tuesday (Nov 14) sentenced the convict in the rape and murder of a five-year-old in Aluva, Ashfaq Alam, to capital punishment. The death penalty is as per IPC Section 302. The court also noted that the accused does not deserve any mercy. The quantum of the sentence was pronounced by Judge K Soman. 
Responding to the verdict, Chief Minister Pinarayi Vijayan said that this verdict is a strong warning to offenders. Taking to Facebook, he wrote, "The Ernakulam POCSO court has awarded the death penalty to a criminal who killed a five-year-old girl in Aluva. This judgment on Children's Day is also a strong warning to those who abuse children. That child was the victim of the most heinous cruelty that shocked the conscience of the society. The systems concerned worked most efficiently to catch the culprit and brought him before the justice."
He said, "As soon as the complaint was received, the police started an investigation and arrested the accused within hours. The investigation was completed in 35 days and the charge sheet was submitted. The trial was completed in a record speed of 100 days and the maximum sentence was fixed for the accused. The investigation team and the prosecution acted with utmost precision and agility. Kudos to the investigating team and the prosecution for a thorough investigation and trial and awarded maximum punishment to the culprit."
CM Vijayan said, "The government had provided all kinds of help and protection to the family of the child in Aluva. Nothing can replace their loss. However, justice was ensured through the court verdict. Any violence against children is not acceptable in a civilized society. Action will be taken against such people without any mercy. This court judgment is also a strong warning to those involved in such inhumane crimes."
The Chief Minister said that the entire society should be prepared to isolate such criminals.
The appalling incident that sent shockwaves across the state took place on July 28. The lifeless body of the five-year-old girl was tragically discovered in a garbage yard, almost a day after she was abducted from her family's rented house in Aluva, near Kochi. 
Last Updated Nov 14, 2023, 1:34 PM IST