All schools in Delhi set to reopen from Monday as air quality improves
All schools in Delhi are set to reopen on Monday, November 20, as the Air Quality Index (AQI) has improved, and the Graded Response Action Plan (GRAP) Stage IV guidelines have been revoked. The decision follows improved air quality due to increased wind speed and a change in wind direction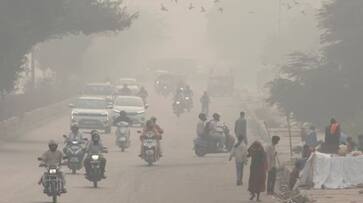 All schools in Delhi are set to reopen from Monday, November 20, as the Air Quality Index (AQI) has shown improvement, and there is no imminent indication of a sharp decline, according to a government order issued on Saturday. The decision comes as the Sub-Committee on Graded Response Action Plan (GRAP) revoked its order invoking Stage IV of GRAP, citing improved air quality and favourable forecasts from the India Meteorological Department (IMD) and the Indian Institute of Tropical Meteorology (IITM).
The order stated that "all government, government-aided, and private recognized schools in Delhi" can resume physical classes for all grades, ranging from pre-school to Std XII, starting Monday. However, the order outlined that outdoor sports activities and morning assemblies will not be held for the next week. It emphasized the need for schools to inform parents accordingly.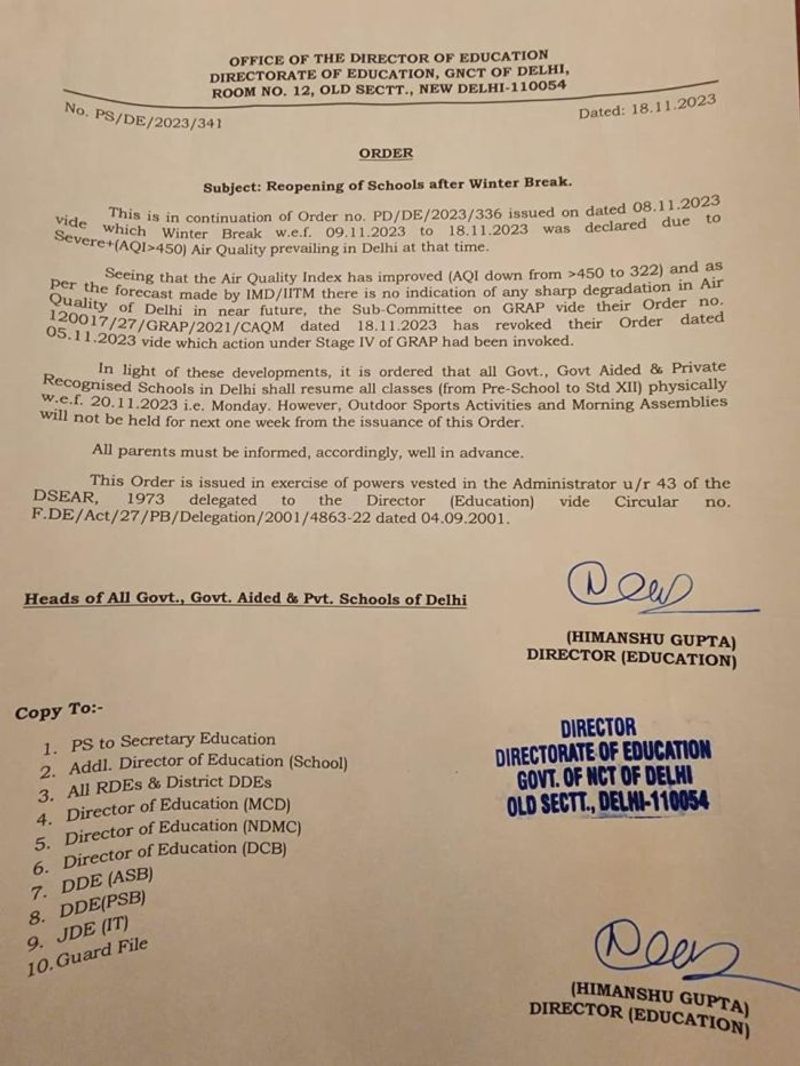 Earlier in the day, the central government directed authorities to withdraw GRAP Stage-IV guidelines in Delhi, marking the easing of stringent measures under the Graded Response Action Plan. 
The decision followed improvements in air quality attributed to increased wind speed and a change in wind direction. Stage IV measures, which were lifted, included a ban on certain construction activities and the entry of polluting trucks into Delhi.
The Commission for Air Quality Management in the National Capital Region and Adjoining Areas (CAQM) urged Delhi and neighbouring states in the National Capital Region (NCR) to revoke all emergency measures. However, some restrictions from earlier stages of GRAP, such as a ban on non-essential construction work, mining, stone crushers, diesel generators, and certain vehicular restrictions, will remain in effect.
The move comes as Delhi's 24-hour average AQI, recorded at 4 pm, showed improvement from 405 on Friday to 319 on Saturday. Despite the positive trend, neighbouring areas such as Ghaziabad, Gurugram, Greater Noida, Noida, and Faridabad continued to record "very poor" air quality.
Last Updated Nov 18, 2023, 9:16 PM IST