31 deaths in 48 hours: MP makes Maharashtra hospital dean clean filthy toilet amidst tragedy - WATCH
Government hospital in Maharashtra faces scrutiny as 31 people die within 48 hours, leading to an unusual incident where a Shiv Sena MP instructs the dean to clean a dirty toilet amidst allegations of medical negligence.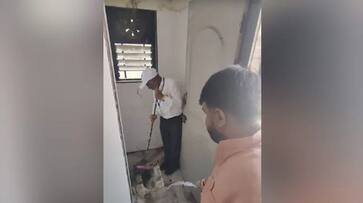 In a government hospital in Nanded, Maharashtra, where 31 people lost their lives within 48 hours, an unusual incident occurred as the dean himself cleaned a filthy toilet after being instructed to do so by a Shiv Sena MP. The deaths at the Shankarrao Chavan Government Hospital gained national attention, prompting Shiv Sena (Shinde faction) MP Hemant Patil to visit the hospital and assess the situation. Upon discovering the unsanitary condition of a toilet, Patil took the hospital's dean, Shyamrao Wakode, to task and asked him to personally clean it.
Video footage shows the MP holding a pipe while the dean cleans the toilet, placing a container, a bottle, and a toilet brush on a window. Patil can be seen spraying water into the toilet as Wakode, armed with a wiper, directs the dirty water into the commode.
The hospital initially reported 24 deaths in 24 hours on Monday, and this number tragically rose to 31 within a span of 48 hours on Tuesday. Additionally, the condition of 71 patients is described as critical.
Dean Wakode had previously refuted allegations of medical negligence on Monday, asserting that there was no shortage of medicines or doctors. He claimed that patients had received proper care but had not responded positively to the treatment.
The opposition has directed criticism towards the Eknath Shinde-led government in Maharashtra, a coalition of the Shiv Sena (Shinde faction), the BJP, and the Ajit Pawar faction of the Nationalist Congress Party (NCP).
Congress leader Rahul Gandhi expressed his concerns, questioning the government's priorities: "The BJP government spends thousands of crores on publicity, but there is no money to buy medicines for children."
Congress President Mallikarjun Kharge decried the tragic incident and called for a thorough investigation and severe punishment for those responsible.
Dr. Dilip Mhaisekar, Director of Medical Education and Research, announced the formation of a committee to investigate the deaths, and Maharashtra's Medical Education Minister, Hasan Mushrif, pledged to visit the hospital to address the situation. Mushrif asserted that there was no shortage of medicines or doctors and promised a comprehensive investigation into each death, with consequences for any negligence found.
Last Updated Oct 3, 2023, 4:57 PM IST