3 COVID-19 cases found in green zone Uttar Dinajpur: Locals block entry points to city in West Bengal
Uttar Dinajpur district of West Bengal was a green zone until Saturday. However, the situation took a drastic turn on Sunday after three coronavirus positive cases surfaced. This triggered a panic in the district headquarters, Raiganj city. All the roads and lanes in the city have been blocked by the locals.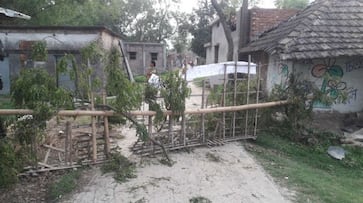 Kolkata: The Union home ministry had classified Uttar Dinajpur district of West Bengal as a green zone without any coronavirus case. However, three COVID-19 positive cases on Saturday triggered a panic situation in Raiganj city. As a result, locals blocked roads as a mark of protest.
Three residents from Shyampur, Sherpur and Samaspur villages tested positive for coronavirus. All of them, migrant labourers had recently returned to the state from Ajmer, Rajasthan. The three villages are adjacent to Raiganj city and many people travel to and from these villages while visiting different parts of the city on a daily basis.
Now, panicked residents think these migrants may have carried the deadly virus and, in an attempt to curb the spread, they have installed barricades with bamboo sticks and tree logs on roads leading to the city.
Various other roads, lanes, and alleys of Raiganj were blocked on Sunday. Boards stating No Entry'; 'No Mask, No Entry' etc were seen on the barricades. 
All the three COVID-19 positive patients were rushed to a designated hospital in the district as soon as reports were out. Their family members have been quarantined.
However, the residents of Raiganj city were not satisfied. They claimed that blocking the roads were necessary to curb the spread of coronavirus.
"There was no trace of corona in our district. But, yesterday (Saturday) the situation changed. People, mainly youths, are anxious with the sudden change in the situation. So, they blocked the main entrances of the city with bamboo sticks. Only administration officials and health workers are allowed into the city. It is just to control unnecessary outsiders from entering the city', said Jaishankar Chakravarty, a resident.
Last Updated May 11, 2020, 1:36 PM IST