'140 crore Indians are cheering for you': PM Modi wishes Men in Blue ahead of WC final against Australia
Ahead of the ODI World Cup 2023 final between India and Australia in Ahmedabad, PM Narendra Modi has wished the Men in Blue, adding that 140 crore Indians are cheering for their ultimate victory.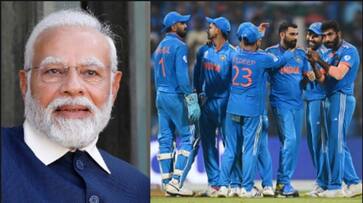 On a 'Super Sunday,' an Indian captain, positioned to establish a unique legacy, is set to lead a squad of 10 formidable professionals backed by a billion cricket enthusiasts. The stage is the ODI World Cup 2023 final at the Narendra Modi Stadium in Ahmedabad, where the stakes are winner-takes-it-all.
Ahead of the high-stakes clash, PM Narendra Modi wished the Men in Blue. "All the best Team India! 140 crore Indians are cheering for you. May you shine bright, play well and uphold the spirit of sportsmanship," wrote the PM on X.
Virat Kohli and Ravichandran Ashwin, familiar with the triumph of winning the ODI World Cup, join forces with Rohit Sharma, a key player in India's inaugural T20 World Cup victory in 2007, bringing a wealth of experience to the table. However, this final holds a distinct significance—it transcends a mere cricket tournament victory; it involves caring about the emotions invested in the game.
Despite claims from Rohit and his teammates about their indifference to external chatter, it is precisely this external noise that elevates the game's significance and relevance. The stakeholders—fans who revere these players as 'Demi Gods,' broadcasters investing substantially in Indian cricket telecast rights, and sponsors supporting the game—all contribute to the collective desire for the game to prosper and endure.
Also read: IND vs AUS: 'Let's make it happen' - Sadhguru cheers for 'Team Bharat' ahead of World Cup final (WATCH)
In 1983, Kapil Dev's infectious grin from Lord's balcony captured hearts, marking the beginning of an unknown journey. The road ahead remained uncertain.
The iconic moment in 2011, when Dhoni sealed victory with a six in the World Cup final, signaled a shift in cricket's power dynamics, establishing India's dominance at the 'Mecca of Cricket.'
Fast forward to 2023, the Indian cricket team aims not only for a third ODI global title but also to revive the struggling '50-over format,' grappling with an identity crisis for the past five years.
A victory for India holds the potential to rejuvenate and inject life into the format.
Australia stands as the sole team to achieve consecutive title triumphs with 11 wins in 2003 and 2007. Rohit Sharma now has a historic opportunity, as a win on Sunday would make India only the second side to accomplish this feat.
Also read: IND vs AUS: Rohit Sharma's 'rightful' swap - Superstition behind World Cup trophy photoshoot gives fans hope
Last Updated Nov 19, 2023, 12:50 PM IST