Explained: How twin-seater Tejas is a shot in the arm for IAF
India recently approved the acquisition of 97 more Tejas Mark-1A aircraft, increasing the total fleet to 220. The LCA Tejas, a 4.5-generation fighter, is known for its indigenous content, advanced features, and impressive performance capabilities. Girish Linganna explains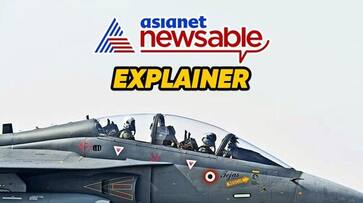 On October 4, the Hindustan Aeronautics Limited (HAL) delivered the first twin-seater trainer variant of the Light Combat Aircraft (LCA) Tejas to the Indian Air Force (IAF) in Bengaluru for training its aspiring pilots to become fighter pilots. In the IAF, a standard fighter squadron typically comprises 18 aircraft deployed for operational use, with three additional aircraft held in reserve. The IAF has placed an order for 18 twin-seater aircraft with HAL. They plan to deliver eight of these twin-seater aircraft in fiscal 2023-'24 with seven more LCA twin-seaters to be delivered next year. The remaining 10 twin-seaters will be delivered in stages, with completion expected by 2026-2027. Additional orders from the IAF are also anticipated.
This aircraft is included in a previous order for 40 LCA Tejas Mark-1 jets, which was the initial version of the LCA. The indigenous content levels for the LCA Mark-1 stand at 59.7 per cent by value and an impressive 75.5 per cent in terms of replaceable line units.
There are currently three production variants -- the Tejas Mark-1, Mark-1A and Trainer. Out of the 40 LCA Mark-1s, the IAF has already introduced 32 single-seater LCA Mark-1 jets and formed two LCA squadrons, known as the 'Flying Daggers' and 'Flying Bullets', stationed at Sulur, in Coimbatore district of Tamil Nadu. The remaining eight aircraft are LCA twin-seater Trainers.
The IAF has placed an order for 83 Tejas Mark-1A aircraft, consisting of 73 such jets and 10 trainers. This order is part of a Rs 46898-crore contract signed with HAL in February 2021, with delivery expected between February 2024 and February 2028. 
The 83 Tejas Mark-1A aircraft will serve as replacements for the approximately 80 MiG-21 Bison aircraft currently in service, which are planned to be phased out into retirement by 2025.
During the handover of the first twin-seater trainer variant of the LCA Tejas to the IAF, Chief of the Air Staff Air Chief Marshal VR Chaudhari said India had recently approved the acquisition of an extra 97 Tejas Mark-1A aircraft to outfit an additional five squadrons and facilitate the replacement of MiG-21 and MiG-29 jets. This procurement will increase the total number of LCAs to 220. 
Anatomy of the LCA Tejas
The LCA Tejas is 13.2 metres long, with a wingspan of 8.2 metres and height of 4.4 metres. It is a high-performance, 4.5-generation, single-engine, single-pilot seat (except the twin-seat Trainer), Delta wing, tailless, light multi-role fighter aircraft designed to excel in challenging and high-threat air environments. All the 3 production variants are powered by a single GE-404-IN20 engine, with an engine thrust of 85 KN. 
It is engineered to accommodate a variety of precision-guided air-to-air and air-to-surface weaponry. The aircraft boasts air-to-air refuelling capabilities and an impressive maximum payload capacity of 4,000 kg. It can achieve a top speed of Mach 1.8 (2,200 kilometres/hour). Its maximum takeoff weight stands at 13,300 kg. It offers a general range of 850 kilometres, with a combat range extending up to 500 kilometres. Its service ceiling is 50,000 feet. 
With over 90 per cent of its surface and more than 45 per cent of its airframe by weight composed of composite materials, this aircraft boasts one of the most extensive applications of composites globally. This significant utilization of composites has resulted in a remarkable 21 per cent reduction in the aircraft's weight and a substantial 40 per cent decrease in its part count compared to what would have been the case with an all-metal construction.
LCA Tejas Mark-1A Specs
The LCA Tejas Mark-1A retains the basic Mark-1 airframe but has a reduced aircraft weight through greater use of composites. The Mark-1A version incorporates 43 enhancements compared to the initial batch of 40 LCA Tejas Mark-1 aircraft that the IAF procured from HAL for Rs 8,802 crore.
The Tejas Mark-1A is a domestically designed, developed and produced modern 4-plus generation fighter aircraft, featuring over 65 per cent of indigenous components. A domestically developed Active Electronically Scanned Array (AESA) Radar, Beyond Visual Range (BVR) Missile capabilities, a state-of-the-art Electronic Warfare (EW) Suite and the ability for Air-to-Air Refuelling (AAR) gives the LCA Tejas Mark-1A the capability to fulfil the IAF's operational needs.
LCA Tejas Trainer Specs
The LCA Tejas twin-seater -- a light-weight, all-weather, multi-role 4.5 generation aircraft -- comes with such features as easy and stable flight, quadruplex (four-fold) fly-by-wire electronic flight control, worry-free manoeuvring, modern glass cockpit, built-in digital avionics systems and advanced lightweight materials in its structure. 
The introduction of the LCA twin-seater variant places India among a select group of nations with the capability to develop and deploy such aircraft in their armed forces, demonstrating its elite status in this regard.
LCA Tejas Exports Status
India's goal of becoming a net exporter of military equipment hinges on its capacity to offer the Tejas aircraft to friendly nations. However, this aspiration will need to be postponed for a decade -- or even longer -- since the manufacturer of the Light Combat Aircraft is currently focused on fulfilling orders for the IAF.
Several countries have already expressed interest in the Tejas LCA and India is actively looking to present the aircraft internationally at air shows. Additionally, India aims to participate in competitive bidding for contracts in foreign countries, gaining valuable experience by competing against other aircraft in international tenders.
The author of this article is a Defence, Aerospace & Political Analyst based in Bengaluru.
Last Updated Oct 5, 2023, 7:52 PM IST