Explained: How Directed Energy Weapons boost India's arsenal
India's progress in Directed Energy Weapons technology puts it in competition with other global powers, particularly China, which has made significant strides in ground-based laser weapons. DEWs are poised to shape the future military landscape. Girish Linganna reports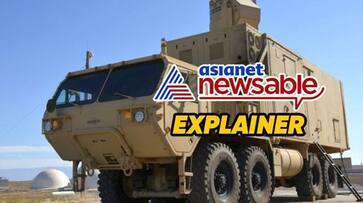 In a moment that could either be seen as a mere ripple in the waters or a pivotal acknowledgement of disruptive military technology, Air Chief Marshal Vivek Ram Chaudhuri recently announced that India had not only tested -- but also deployed -- Directed Energy Weapons (DEWs) and hypersonic weapons. 
This declaration sent shockwaves through the defence community, piquing the interest of defence journalists and strategists alike. However, clarity soon followed as Indian Air Force (IAF) sources stated that the chief's statement highlighted the global utilization of such weapons and was not exclusive to India. 
Directed Energy Weapons (DEWs) have discreetly found their place within India's intricate security framework, although no official pronouncement has been made to this effect. DEWs encompass weapons systems that unleash a destructive force generated by concentrated laser beams, microwaves, or particle beams onto targets at incredible speeds. 
DEWs boast of numerous advantages over conventional weaponry, including unmatched accuracy, cost-effectiveness per shot, logistical efficiency, low detectability and the unprecedented speed at which their lethal beams strike intended targets. 
DEWs are emerging as the primary defence against the seemingly 'unstoppable' threat of hypersonic missiles.
DEWs Development in India
The development of DEWs in India owes much to the efforts of the Defence Research and Development Organisation (DRDO) and its adjunct, the Centre for High Energy Systems and Sciences (CHESS), based in Hyderabad. Various other entities, including the Bhabha Atomic Research Centre (BARC), the Army Design Bureau (ADB) and the National Security Council Secretariat (NSCS), have contributed to different DEWs programmes.
A notable milestone is CHESS's successful development of a laser-based anti-drone system, which was demonstrated effectively to potential users. An integrated anti-drone system, encompassing radar, jamming capabilities and laser-based hard-kill capabilities, has been created and deployed. The manufacture and supply of these weapons have been entrusted to Bharat Electronics Limited (BEL), based in Bengaluru. 
Multiple anonymous sources have confirmed that DEWs have been part of India's arsenal for several years, emerging from such classified programmes as Kilo Ampere Linear Injector (KALI) and Directionally Unrestricted Ray-Gun Array (DURGA). 
Some of these platforms have already been inducted, and the induction of a 'major platform' is expected in 2024. This system will possess the capability to neutralize incoming missiles and projectiles during their terminal phase, even at ranges of approximately 25 kilometres. Operational details, including range and other parameters, remain closely guarded secrets.
DEWs in Global Landscape
In the global landscape of Directed Energy Weapons (DEWs), two primary options have taken centrestage: High-Power Lasers (HPL) and High-Power Microwaves (HPM). HPLs, characterized by their narrow beams, offer precision targeting over a smaller area, whereas HPM weapons, with their broader coverage, prove more effective against missile salvos and drone swarms. 
The development and manufacturing of DEWs represent a collaborative effort of the highest order. A prime example is the 'comprehensive' naval anti-drone system, conceived within the laboratories of the DRDO and brought to life by the state-owned BEL. 
Several pivotal entities, including DRDO Labs, the Electronics and Radar Development Establishment (LRDE) and the Defence Electronics Research Laboratory (DLRL), alongside CHESS and IRDE, have played integral roles in shaping these advanced systems. 
Manufacturing hubs for drones were established at BEL centres in Bengaluru, Hyderabad, Pune and Machilipatnam. Notably, the Army and the Air Force are poised to follow the Navy's lead in acquiring these cutting-edge DEW systems.
In a significant move on March 11, 2022, the Indian Defence Ministry unveiled plans to identify 18 major platforms for industry-led design and development. This initiative encompassed DEWs with power ratings of 300 kilowatts and beyond, as well as High-Powered Electromagnetic Devices and High-Powered Laser Devices. 
As India surges ahead with its DEWs research and development, it finds itself in a fiercely competitive arena alongside other major global powers. A report from the US Department of Defense highlighted China's significant strides in the realm of ground-based laser weapons, spanning various power levels, designed to disrupt, degrade, or damage satellites. 
The report went on to suggest that, by the mid-to-late-2020s, China might field higher power systems capable of extending the threat to non-optical satellite structures. Notably, China has already unveiled the LW-30 system capable of neutralizing unmanned aircraft systems and precision-guided weapons, marking a significant development showcased at the International Aerospace Exhibition in Moscow in 2019. 
Much like how nuclear weapons and missiles defined the Cold War era and satellites and communication technology dominate the present, Directed Energy Weapons are poised to shape the military landscape of the immediate future and beyond. It comes as no surprise that every major global power is fervently pursuing these cutting-edge weapons. 
India, too, has made remarkable progress in this endeavour, marking its presence in the race for DEWs on the world stage. 
The author of this article is a Defence, Aerospace & Political Analyst based in Bengaluru
Last Updated Oct 3, 2023, 9:25 AM IST