Vivo Watch 3: Thinner design, stainless steel crown, 16-day battery life & more; Check details
Vivo has launched the Vivo Watch 3, a new smartwatch offering an array of health and fitness tracking capabilities, a durable design, and a long battery life. It is powered by Vivo's BlueOS, supports eSIM for voice calls, and offers various colour and strap options at different price points. Check details.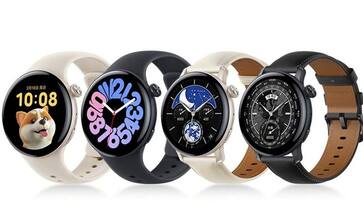 Vivo launched its flagship X100 series smartphones coupled with the introduction of its newest wearable, the Vivo Watch 3. This new product replaces the Watch 2, which debuted back in 2021. The Vivo Watch 3 is an improvement over the Vivo Watch 2. The smartwatch was notably introduced in China. In India, Vivo has not yet released a smartwatch.
The Vivo Watch 3 boasts an easier-to-use button on the right side and a stainless steel spinning crown, all in a slimmer form. Its 1.43-inch circular screen's curved glass creates a three-dimensional appearance. This screen is always on (Always-On Display, or AOD mode) and offers a crisp resolution of 466 × 466 pixels. It is also more durable due to its 5-meter water resistance.
Also Read | You can now delete your Threads profile without deleting your Instagram account
The Watch 3 will appeal to those who are interested in health and fitness since it has a heart-rate monitor, a SpO2 sensor, and an alarm that sounds when there are unusual variations. The gadget keeps track of a number of things, including stress levels, sleep patterns, and even women's menstrual cycles. In order to safeguard users' hearing, it also warns them of extreme noise levels. It supports more than 100 training modes and provides personalised exercise programmes, making it suitable for a variety of fitness regimens.
Vivo's proprietary BlueOS operating system, which is built on the Rust programming language, powers the Watch 3, which comes equipped with capabilities like NFC vehicle keys and camera control, among others. Along with using wrist-raised swiping and QR code display for payments, users may store cards. It also pairs with TWS earphones and enables eSIM for hands-free voice calls. It has 4GB of native storage and 64MB of RAM, thus it can store music.
Also Read | WhatsApp rolls out new voice chat feature for large groups on Android, iOS
With its 505mAh battery, the Vivo Watch 3 is said to have a 16-day battery life on a single charge. The watch comes in three colour options: Bright Moon, Starlight, and Moonlight White. Versions and various strap choices affect pricing.The soft rubber strap variation costs CNY 1,299 ($178), while the eSIM version with a leather strap starts at CNY 1,399 ($191). Costing CNY 1,199 ($164) and CNY 1,099 ($150) is the Bluetooth variant with comparable strap choices.
The Vivo Watch 3 caters to people looking for a complete smartwatch experience at different price points by combining fitness tracking, smart functions, and an attractive design.
Also Read | Apple to introduce iPad Air with a larger 12.9-inch display in 2024: Report
Last Updated Nov 14, 2023, 4:39 PM IST