Motorola shows off concept smartphone which you can bend & wear on your wrist (WATCH)
Motorola recently joined its parent company's event, Lenovo Tech World '23, where it showcased a smartphone concept that can be rolled on your wrist like a smart bracelet with all the phone features.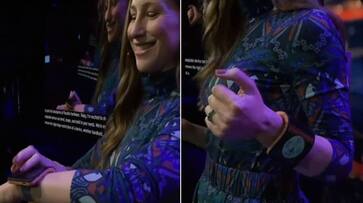 Motorola wants you to wear their revolutionary flexible phone around your wrist, but since it's still a concept phone, you can't. At Lenovo's yearly Global Tech World event, Motorola unveiled a revolutionary concept phone with a flexible pOLED display in a moment that stopped the show. This innovative gadget opens the door to a fully hands-free mobile experience with its amazing ability to wrap around your wrist and change into a tripod.
Some significant features have surfaced, but detailed specs are still being kept under wraps. Despite having pronounced bezels, the foldable phone has a 6.9-inch diagonal screen with FHD+ quality. Its rear panel is made of a special kind of cloth that seems to provide a solid hold for the hand.
Although the specifics of the device's operation are unknown, rumours have it that the smartphone may be swiftly fastened to the wearer's wrist via magnetic connections to a metal cuff. Its unique feature is its adaptable UI, which modifies itself according on the orientation of the screen.
For example, when you place the phone in stand mode on a table and bend the bottom of the device, the applications on the lower half of the screen will automatically move to the top half. Additionally, the gesture navigation choices will advance.
Additionally, generative AI features tailored for the flexible form factor were demonstrated in the prototype of this flexible device. By taking a picture of their attire, customers may utilise MotoAI, an integrated function, to customise the background and theme on their phone. They get AI-generated wallpaper in exchange, which is ready to fit their screen. How Motorola plans to integrate a battery into this bendable phone is currently unknown. 
It's also unclear if a flexible body would provide customers with the same experience as a modern flagship phone because the new technology is probably going to be highly costly.  In the IT community, the prototype phone's intriguing design and potential for hands-free use have generated a lot of excitement. More information on Motorola's concept phone should be released soon. 
 
Last Updated Oct 26, 2023, 11:05 AM IST