MASSIVE discounts on iPhone 14, iPhone 13 on Flipkart ahead of iPhone 15 launch; Check details
The iPhone 14 has received up to Rs 16,901 discount on Flipkart. The deals comes a 2 days ahead of iPhone 15's India and global launch. Consumers can also buy the iPhone 13 at the lowest price yet.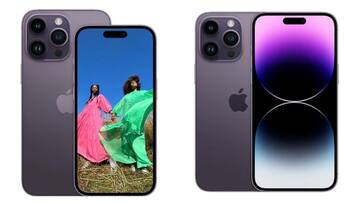 Apple's most recent 5G premium phone is now available for the lowest price since its introduction, which is great news for fans of the iPhone 14 (PRODUCT) Red. The device has received a massive discount on Flipkart. The deal comes just days ahead of Apple's iPhone 15 launch.
The pricing of the iPhone 14's red colour option has been reduced to Rs 66,999 from Rs 79,900. Additionally, HDFC bank credit card holders receive a Rs 4,000 discount, thereby lowering the cost to Rs 62,999. Consumers receive a total discount of Rs 16,901 in consideration of this. 
Also Read | Apple may launch low-cost MacBook to compete with Google's Chromebooks: Report
It is worth mentioning that the iPhone 13 is currently listed on Flipkart with a starting price of Rs 56,999. This is the lowest price yet. The great thing is that people who have credit cards from HDFC bank will be able to purchase this device for an actual cost of Rs 54,999.
According to information that has surfaced thus far, the iPhone 15 will have significant upgrades to its camera, battery, CPU, design, and other features. These improvements might cost more, though. Due to these improvements, Apple may opt to offer the new phone at the same price as its predecessor, which is around Rs 80,000, or slightly higher. 
Also Read | Google Pixel Watch 2 to launch in India along with Pixel 8 series | WATCH
The wait for the iPhone 15 can be worthwhile if you're anxious for the newest features and don't mind the price. The iPhone 13 would be a better choice than the iPhone 14 for those on a tighter budget.
It's crucial to remember that the iPhone 13 is a two-year-old 5G model and that it has features that are exactly the same as those of the iPhone 14. You may expect a comparable performance as a result. They have the same processor, camera, display, and battery life.
Also Read | Apple Watch series 9 may get new processor chip, better heart rate sensor & more
Last Updated Sep 11, 2023, 11:15 AM IST