Google Pixel 8, Pixel 8 Pro specifications, price leaked ahead of October 4 launch
Google Pixel 8 and Google Pixel 8 Pro will be launched in India on October 4. Ahead of the launch, press renders of the phone have been leaked online. Here's what we know so far.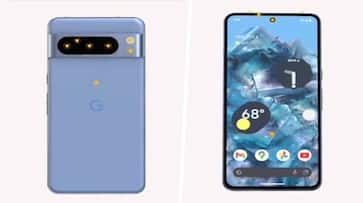 Google is almost ready to introduce its eagerly awaited Pixel 8 range of smartphones. The design, functionality, and specs of the future gadgets have been the subject of several online rumours for a while now. Press renderings of the gadgets have been posted online with less than a week till the debut of the phones and watch. The Google Pixel 8 and Google Pixel 8 Pro appear to have a familiar appearance with minor tweaks in the leaked press renderings.
The two forthcoming phones are seen in the renderings in various hues. While the Google Pixel 8 Pro will have three colour options, the Google Pixel 8 is expected to arrive in four distinct hues. Both phones are depicted in the press renders with a design that Pixel owners may be accustomed to. There have been slight adjustments. Both phones have a punch-hole notch and thin bezels.
Also Read | Did iPhone 15, iPhone 15 Plus survive the bend test? (WATCH)
Google Pixel 8, Pixel 8 Pro expected specifications
The Google Pixel 8 will have a 6.17-inch Full HD AMOLED display with a 120HZ refresh rate and a resolution of 2400x1080 pixels, according to the leaked specifications. The more expensive Pixel 8 Pro, on the other hand, may have a 6.7-inch OLED screen with a 3120x1440 pixel resolution. The Google Pixel 8 Pro could have a refresh rate of up to 120Hz, just as the Google Pixel 8.
Additionally, two storage configurations of the Pixel 8 are anticipated: one with 8GB RAM and 128GB of storage, and the other with 8GB RAM and 256GB of storage. Three storage options for the Pixel 8 Pro are anticipated: 12GB RAM + 128GB, 12GB RAM + 256GB, and 12GB RAM + 512GB.
Also Read | Decoding why Apple iPhone 15 Pro series is facing overheating issue
Both smartphones are anticipated to be equipped with a promising 50-megapixel main back camera. There may be two cameras in the Google Pixel 8 with a Sony IMX386 sensor for ultra-wide-angle photos. A 64-megapixel and a 48-megapixel ultra-wide-angle camera will likely be included in the Pixel 8 Pro's triple camera configuration. Both phones' front cameras are probably equipped with 11-megapixel sensors. In the past, Pixel phones have received praise for their camera quality, so it will be intriguing to see what Google has in store for us this time.
The Google Pixel 8 is anticipated to go on sale for EUR 799 (approximately Rs. 70,200), while the Google Pixel 8 Pro is anticipated to start at EUR 1099 (about Rs. 96,500). 
Also Read | 'Too hot to touch': Netizens fume over overheating issue in Apple iPhone 15 Pro series
Last Updated Sep 29, 2023, 10:31 AM IST