Flipkart sale: Google Pixel 7 priced under Rs 50,000; Check out deal details
Google Pixel 7 was launched in India at a price of Rs 59,999. The phone is powered by the Tensor G2 chipset and 8GB RAM + 128GB storage. Pixel 7 is available in three colours — Lemongrass, Obsidian, and Snow.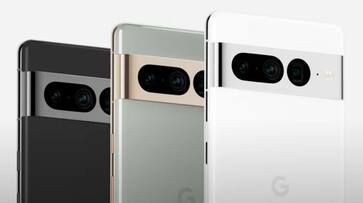 In India, the Google Pixel 7 has seen a price reduction as part of the current Flipkart Big Savings Day deal. For less than Rs 50,000, the basic Google flagship is available on Flipkart, making it an alluring offer for those who have been itching to get their hands on the Pixel 7. The Pixel 7 bargain is really so amazing that it causes the customer to question why they should spend less than Rs 50,000 on the lower-end Pixel 7a when the flagship Pixel 7 offers a far better value for practically the same price. So, here's how you can now get the greatest offer on the Pixel 7. 
The Google Pixel 7 is presently available at Rs 47,999 on Flipkart. For those who are unaware, the single 8GB RAM + 128GB storage option of the Pixel 7 was previously offered in India for Rs 59,999. The latest sale, the current Flipkart Big Savings Days event, has seen a number of discounts and deals on the phone since that time.
Also Read | Amazon Great Freedom Festival Sale 2023: 6 best deals on smartphones under Rs 10,000
Therefore, if you go to Flipkart right now and look at the Google Pixel 7, you'll notice that it costs Rs 47,999. That's not all, though. There is an extra Rs 2,000 savings if you use your credit or debit card, including EMI purchases from certain bank credit cards. 
Additionally, Flipkart is providing an exchange bonus of up to Rs 47,000 if you have an outdated phone to trade in. For instance, if you want to trade in your iPhone 12 for a new Pixel 7, you may earn a respectable exchange value of up to Rs 30,000 if your previous smartphone is in good shape, which would lower the actual cost of the Pixel 7.
The effective price of the Google Pixel 7 can be drastically reduced with all these reductions and exchange options available. 
Also Read | iPhone 15 series launch event likely on September 13, sale to begin from September 22
Last Updated Aug 7, 2023, 12:30 PM IST