Apple 'Scary Fast' launch event on October 30; Here's what you can expect
Apple is hosting an online-only event later this month where reports claim we could see the new iMac and MacBooks powered by M3 chip. You can watch the live feed of this event on Monday since Apple is hosting it online.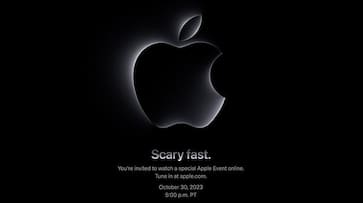 Apple has officially announced that, on October 30, before the month ends, it would be unveiling new Macs, iMacs, and other products. The event invite officially puts an end to the speculations that the corporation has been preparing for it. The phrase "Scary Fast" on Apple's event invitation suggests that the corporation may introduce the brand-new M3 series processor, which will be unveiled with new MacBooks and even iMacs.
You can watch the live feed of this event on Monday since Apple is hosting it online. The launch of the Apple iMac is scheduled for Monday, October 30 at an interesting time of 5:00 PM PT, which translates to Tuesday, October 31 at 5:30 AM IST for those watching in India. Since the event will be virtual, you can watch the live stream of the product launch via the Apple Events website or visit the Apple YouTube page to stay up to date.
Apple may unveil the new M3 chip in addition to the MacBooks and iMacs that are powered by the new Apple silicone. Rumours about the launch event were recently provided by Bloomberg, which stated that Apple might be planning a launch event for Mac users later this month.
Updates to the 13-inch MacBook Pro and a new version of the 14- and 16-inch MacBook Pros with the M3 chip are also anticipated from Apple, though it is unlikely that the company will unveil new iPads at this event. The iMac upgrade is long overdue, as the previous model had the first M1 chip.
Last Updated Oct 25, 2023, 9:54 AM IST