Apple 'Scary Fast' event: Will tech giant reveal updated iPads and AirPods?
California based Apple has recently announced the 'Scary Fast' event, scheduled for October 30 at 5:00 PM PT. According to a Bloomberg report, while Apple usually releases updated iPads together with Macs, the company does not intend to launch new tablets until spring.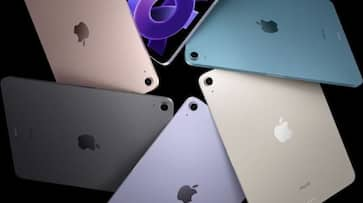 California based Apple has recently announced the 'Scary Fast' event, scheduled for October 30 at 5:00 PM PT. The event is highly anticipated, with the spotlight firmly on MacBooks. Before the Scary Fast event, people across the world are wondering if the tech giant would reveal the updated iPads and AirPods for Halloween. Although Apple often delivers updated iPads along with Macs, a Bloomberg report claims that the firm will wait until spring to introduce new tablets.
It has been said that Apple is working on updating the iPad Air, iPad mini, and the entry-level iPad in addition to creating an iPad Pro with an M3 CPU. The business launched a less expensive Apple Pencil earlier this month. In a similar vein, an upgrade for the AirPods is not expected until the next year. According to the report, there are plans to offer new, more affordable variants and AirPods Max headphones by the end of 2024. 
Also Read | Apple employee receives 'award' from CEO Tim Cook after working 10 years | WATCH unboxing video
The report also states that the AirPods Pro improvements are scheduled for 2025. Notably, the highlight of the new Apple event is expected to be the launch of the new M3 chipset, which will run on 3-nanometer processors and bring significant improvements over the M2 lineup that was released in June 2022.
Apple is expected to introduce two new MacBook Pros, codenamed J514 and J516 and powered by the M3 Pro and M3 Max CPUs, according to Bloomberg's Mark Gurnman.
It has been alleged that Apple is testing several iterations of the 12-core M3 Pro CPU, which will include six efficiency cores and six high-performance cores. Four efficiency cores, ten high-performance cores, twenty graphics cores, and an additional M3 Pro chipset might total fourteen primary cores. A top-tier M3 Max chipset, on the other hand, may have 16 cores total—12 high-performance cores, 4 efficiency cores, and 40 graphics cores. The manufacturer of iPhones also intends to provide more advanced RAM models, such as 24GB and 48GB choices.
Also Read | Explained: What is 'SIM swap scam'? How to stay safe from such fraud?
Last Updated Oct 30, 2023, 1:12 PM IST