Yuvraj Singh, Hazel Keech share heartfelt note, cute photo as daughter Aura turns 4 months old; Read
Celebrity couple Hazel Keech and Yuvraj Singh celebrated daughter Aura turning four months by sharing an adorable picture. Hazel penned a heartfelt note expressing love for her daughter. Celebrities like Ali Fazal and Sania Mirza showered the post with affectionate comments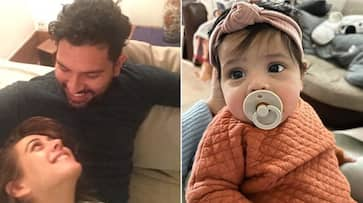 Celebrity couple Hazel Keech and former Indian cricketer Yuvraj Singh celebrated a joyous milestone as their daughter Aura turned four months old. The proud parents shared an adorable picture of their little one on social media, along with a heartfelt note from Hazel Keech.
The couple, engaged in November 2016, welcomed their first child, a boy named Orion, in 2022. Adding to their blessings, they were overjoyed to introduce their second child, a daughter named Aura, born in August 2023.
Taking to Instagram, the couple posted a charming snapshot of Aura dressed in a delightful blown-hued warmer set. The four-month-old captured hearts with her large, beautiful eyes, a soother in her mouth, and a cute hairband accentuating her charm. In the accompanying caption, Hazel expressed her feelings, saying, "Four months of you, baby girl. Four months since this one stole whatever was left of my heart. Four months of this beautiful Aura with her soulful eyes. Four months since my eye bags doubled as did the love in my heart #daughter #mothersunconditionallove #blessing."
The endearing post garnered attention from fellow celebrities and well-wishers. Actor Ali Fazal complimented Aura as a 'Total beauty,' while Indian tennis player Sania Mirza conveyed her affection with a red heart emoji. Sagarika Ghatge, known for her role in "Chak De India," showered the post with multiple red heart emojis, and Bipasha Basu shared a red heart, evil eye, and hug emoji. Kim Sharma, the actress from "Mohabbatein," commented, "What a beauty Scully. she's a princess!"
ALSO READ: World Cup 2023: Anushka Sharma comforts husband Virat Kohli after India losses final match against Australia
A few weeks earlier, the couple shared a family picture featuring Orion and the newborn Aura. The caption read, "Sleepless nights have become a lot more joyful as we welcome our little princess Aura and complete our family."
Last Updated Nov 21, 2023, 8:26 AM IST