Who is Ruhaanika Dhawan, the young TV actress who bought her dream house in Mumbai worth crores?
The popular and most loved youngest TV star Ruhaanika Dhawan is a big name in the television industry. She has been ruling the hearts of her fans as Ruhi Bhalla from the iconic hit serial Yeh Hai Mohabbatein. The youngest television actress brought her luxurious dream house in Mumbai at only 15 years old.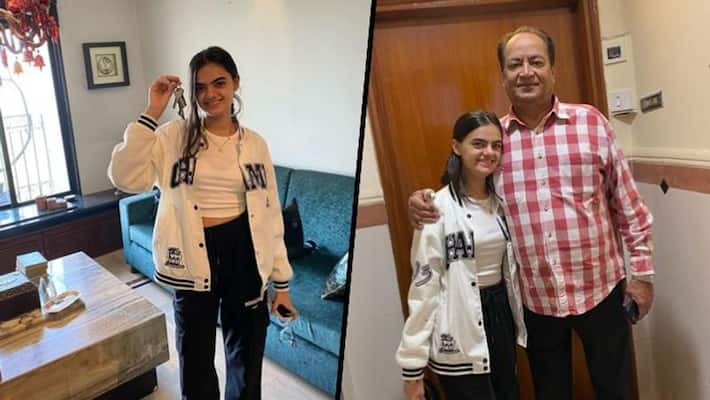 Ruhaanika Dhawan is an Indian television actress. Today she is one of the finest and youngest successful stars who has been garnering love and applause from fans for her performance as Ruhi Raman Kumar Bhalla in TV czarina Ekta Kapoor's hit and iconic serial Yeh Hai Mohabbatein. 
She started off her career at a very young age in 2012 with Zee TV's hit show Mrs. Kaushik Ki Paanch Bahuein. Her nuanced performance as Ruhi Bhalla in Yeh Hai Mohabbatein made her the audience and fan-favorite star. Ever since that moment, Ruhaanika has never looked back. Ruhaanika appeared in a small cameo role in global superstar Salman Khan's hit 2014 film, Jai Ho. She also learned Punjabi and appeared alongside Sunny Deol in Ghayal Once Again (2016).
ALSO READ: New Year 2023: Some sparkly, stylish outfit ideas to wear during the celebrations
It is an exciting time for the young actress. Ruhaanika Dhawan has brought her own luxurious dream house worth crores in Mumbai. Taking to her Instagram handle, Ruhaanika shared the happy news with her fans. She posted a few pictures of her new abode and gave fans glimpses. Her caption read, "With the blessings of Waheguru ji and my parents sharing my happiness with you all. To new beginnings."
She also adds, "My heart is full. I am grateful. I have checked and marked a big dream of buying my own home. It is huge for me, and my folks. I could not wait to share this with you all. My parents and I are extremely thank full for all the platforms and opportunities I have gotten which have helped me achieve this dream. Of course, this would not have been possible without the help and guidance of my parents. As I write this, I know how blessed I feel to have them."
She thanked her mother and wrote, "Special mention to my mother, who is some magician. She in all ways, is a Desi mother who saves every penny and doubles it. Only God and she know how she does it!!".
ALSO READ: New Year 2023: 3 pivotal ways to manage diabetes amid celebrations
Hoping to dream only bigger, Ruhaanika shares, "I am already dreaming bigger. I will chase my dreams work even harder. So, if I can do it, you too can. So dream on, follow your dreams, it will definitely come true one day."
Last Updated Jan 2, 2023, 12:52 PM IST