Vijay Antony at 'Raththam' promotion: Actor makes 1st public appearance 9 days after daughter Meera's death
Tamil actor-composer Vijay Antony and his second daughter Lara made their first appearance after elder daughter Meera died by suicide. They attended the press conference of his upcoming film, 'Raththam'.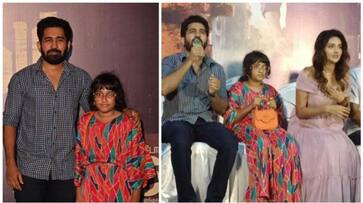 Vijay Antony chose to return to work and promote his next film Raththam on Thursday (September 28), nine days after his elder daughter Meera died by suicide. Producer G Dhananjeyan revealed snippets of Vijay's promotional interviews for their forthcoming flick Raththam.
Sharing the photos, the producer wrote, "True example of professionalism, care for his Producers & Audience by @vijayantony sir – supporting our film #Raththam by being a part of promotional interviews with @csamudhan @ @Mahima_Nambiar today to various channels. A great inspiration & benchmark for the industry, by the man who rises above his personal tragedy to support his Team. Thank you sir."
Vijay's admirers also applauded him for putting on a brave face through the most difficult moment of his life. "The world cannot afford another Vijay Antony!" exclaimed one supporter. You are very inspirational! Sir, more power to you!"
Vijay's elder daughter, Meera, died by suicide on September 19. She was 16 years old. Vijay, his family and his fans were devastated hearing the news.
Taking to X (previously known as Twitter), Vijay Antony said (literal translation), "My daughter Meera is the most kind-hearted and brave. She has left this world and gone where there is no creed, caste, religion, money, jealousy, pain, poverty, or evil. She has gone to a place that is peaceful. (I feel) she is still talking to me." He added, "I also died from within when she died. Now, I have started to spend time with her."
About Raththam: 
For the first time, director CS Amudhan and Vijay Antony collaborated on a film. The film was planned to be released on September 28, but it was eventually pushed back to October 6 due to congestion. The film, expected to be a criminal thriller, stars Vijay Antony, Nandita Swetha, Mahima Nambiar, and Remya Nambeesan in prominent parts.
Last Updated Sep 29, 2023, 8:50 AM IST