Tanushree Dutta lashes out at reality TV star Rakhi Sawant for death of two boys
In a recent media interaction with Rakhi Sawant's ex-husband, Adil Khan Durrani, Bollywood actress Tanushree Dutta has finally alleged and lashed out at reality TV star Rakhi Sawant for the death of two boys and also supported Adil.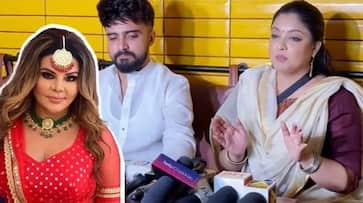 Bollywood actress Tanushree Dutta has claimed that reality TV star Rakhi Sawant is solely responsible for the death of two boys in a recent press conference. The actress made shocking allegations against Rakhi and also revealed that the latter has two police complaints registered against her. The Aashiq Banaya Aapne actress accompanied the ex-husband of Rakhi Sawant, Adil Khan Durrani, at a press conference. She said that Rakhi took a verbal supari against her. Adil pointed out that in his case, his ex-wife even tried to get him killed. Tanushree said that she decided to come forward in support of Adil when she learned about the kind of remarks Rakhi made against him.
ALSO READ: Jaane Jaan reveiw: Kareena Kapoor, Vijay Verma appreciated; but Jaideep Ahlawat's performance dominates
Tanushree recalled an old case against Rakhi where the victims tried to end the feud as they could not fight against her. She alleged that two boys died by suicide because of the former Bigg Boss 14 finalist. 
Tanushree said, "The old victims did not want to face Rakhi. She speaks so ill of them. There are two cases where two boys died by suicide. A case was officially filed against Rakhi. She got accused of abetment of suicide." Adil also adds, "The case lasted for four years. But, then, the case ended because the parents could not fight back Rakhi." 
Tanushree also accused Rakhi of being a psychopath and alleged that she harmed her mental health. The former stated, "The aggression she has. She fights like an aggressive man. I saw how, in the middle of an ongoing case with Adil and Rajshree, she has a new person every day to speak lies. I do not know where she finds such people. She is evil. Despite changing so many religions, she could not change herself. I have heard that she flips when she knows she could get caught. Suddenly, she will turn in a bechari and talk in-depth about her hardships."
ALSO READ: Amy Jackson's latest look draws comparisons to Cillian Murphy, 'Oppenheimer' star
Last Updated Sep 22, 2023, 9:55 AM IST