Sudeep not to host Bigg Boss till Huccha Venkat is punished
Host of Bigg Boss 4, Kichcha Sudeep not to return to the show until Huccha Venkat is punished
Huccha Venkat, a Bigg Boss 3 candidate was sent in as special guest in this season
He was kicked out as he beat up this year's candidate Pratham inside the house
Venkat had also slapped Ravi Moorur in the Big Boss season 3 and was asked to leave the show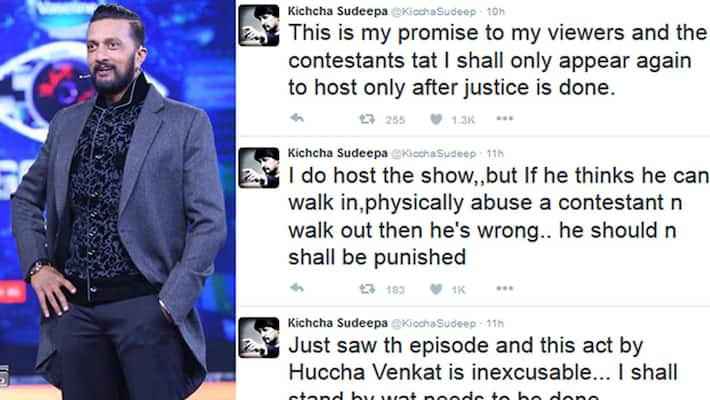 Huccha Venkat became the first Bigg Boss candidate to be kicked out of the show even before he was eliminated in the previous season of the show. This time, he was sent as the special guest inside the house and was kicked out again after he beat up Pratham, a candidate till he bled.
Sudeep has tweeted criticising Venkat's attitude and said I would return only after Venkat is punished.
In the previous season of the Bigg Boss too, Venkat had assaulted inmate Ravi Moorur. In an emotional episode following the incident, host Sudeep had apologised to Ravi Moorur's family and had promised the audience that Bigg Boss will not allow such incidents to repeat.
Now, in this season Huccha Venkat was sent inside the house as a special guest. The task was that every inmate in the house should neglect Venkat and not respond to him. Among the inmates, Prathamstarted singing songs and when Venkat started talking to him directly, Pratham chose to raise his voice while speaking to Shalini.
Angered Venkat grabbed Pratham and beat him up till he started bleeding.
Sudeep has clearly tweeted that he will not return to host the show till Venkat is punished.
Last Updated Mar 31, 2018, 7:01 PM IST