'So beautiful, so elegant': Is Shah Rukh Khan real reason behind Jasmeen Kaur's viral meme? Know details
Shah Rukh Khan's old video praising Juhi Chawla fuels rumors that the 'Just looking like a wow' meme originated from his timeless compliment, taking the internet by storm.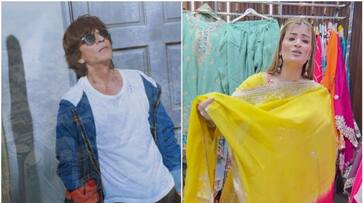 The viral phenomenon known as the "So beautiful, so elegant, just looking like a wow" reel has captured the hearts of people worldwide, with prominent figures such as actors Deepika Padukone, Ranveer Singh, KL Rahul and American model Ashley Graham joining the trend. Notably, Youtuber-musician Yashraj Mukhate, renowned for transforming viral dialogues into catchy tunes, composed a song based on this viral line. Social media platforms are inundated with videos featuring this now-iconic sound clip.
ALSO READ: "Just looking like a wow": Ashley Graham joins viral social media trend at Ranveer's Singh's encouragement
Adding to the buzz, an archival video of Bollywood superstar Shah Rukh Khan surfaced, showcasing him lavishing compliments on actor Juhi Chawla. In the video, SRK expresses admiration, saying, 'So wonderful, so beautiful, so charming, and so elegant,' during an award show. The moment this footage circulated on social media, netizens quickly attributed SRK as a catalyst for the widespread trend. One user commented, "So, she copied SRK😂>>>"; another remarked , "Srk is olready in trend (great grand father of today's trends 🤣)". A third comment read, "Mtlb woh aurat SRK fan hai🤔 ( It means, that lady is SRK's fan?)"
About the trend
Jasmeen Kaur, a thriving entrepreneur based in Delhi, gained widespread recognition on social media when a video of her promoting suits went viral. In the video, she passionately highlighted the beauty of the suits, repeatedly expressing, "So beautiful, so elegant, just looking like a wow." This video garnered numerous likes and shares, significantly amplifying the trend's popularity.
ALSO READ: 'Just looking like a wow': What is the story behind viral internet meme? Read
Last Updated Nov 16, 2023, 3:15 PM IST