Shah Rukh Khan thanks Salman Khan; also says, John Abraham is the backbone of Pathaan
The Shah Rukh Khan-starrer has become the highest-grossing Hindi film in history, grossing Rs 550 crore in only five days. Here are all of the records it set.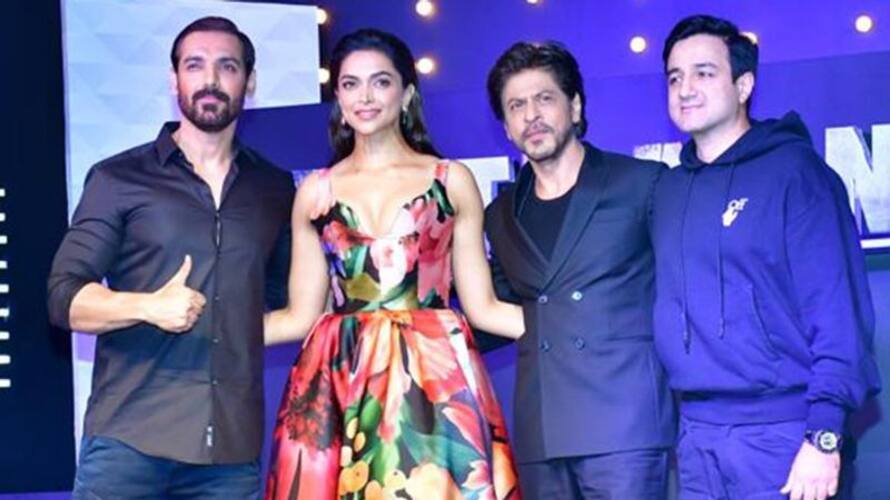 Shah Rukh Khan spoke today about several topics, including his upcoming spy thriller 'Pathaan,' as well as his experiences during the Covid epidemic. Pathaan has become a big box office success, grossing over 500 crores in its first five days.
Here are some highlights from Pathaan's press conference and Shah Rukh Khan's responses.
Pathaan's success: The film was shot during Covid. We are all tremendously thankful to the public and media for their overwhelming support for the film, even though factors may have hampered the film's successful distribution. Everyone has been very generous to the film.
Also Read: Shah Rukh Khan in Pathaan 2? Here's what the superstar has to say
On the filmmaking process: "We had to phone individuals and urge them to please allow us to distribute our film quietly. Film watching and creating is a labour of love, and I want to thank everyone who helped us make Pathaan available to the public. Even if you don't enjoy a movie, going to the movies should make you happy."
Also Read: Pathaan stars candid moments: Shah Rukh Khan, Deepika Padukone and John Abraham greet media and fans
On the Covid epidemic: "I didn't work for a year and a half because of the Covid epidemic," she says. I could, however, spend time with my family and friends. I could see my children, Aryan and Suhana, grow up.
Box office failures: "I started thinking about other business," he says of his recent failures. I began learning to cook to open a restaurant called Red Chillies Eatery."
On how Shah Rukh Khan handles failure: "When something doesn't work, I'm supposed to go to those who love me. I am really blessed to have millions of people that love me. When I'm pleased, I go to my balcony, and when I'm sad, I go to my balcony."
Shah Rukh Khan is ready to do Pathaan 2: "Today is a special day for my family and me. We haven't felt this happy in a long time. I'll do Pathaan 2 whenever he (Siddharth Anand) wants me to. If they want to do a sequel, it will be my honour," Shah Rukh Khan says.
Pathaan's finest feature: "The best feature of Pathaan is Jim, performed by John (Abraham)."
On his on-screen chemistry with Deepika Padukone: "You know Deepika and I need an excuse to romance, embrace, and kiss. So, if you ask me a question, I'll simply kiss Deepika Padukone's hand and that would suffice."
Salman Khan praises Shah Rukh Khan: "Thank you, Salman, for making this picture a success. "'Ye pain killer hai, chewing gum nahi,' is one of the finest lines in the film," adds Shah Rukh Khan.
Last Updated Jan 30, 2023, 7:51 PM IST