Saira Banu's nostalgic social media post: Fondly recalling marriage with Dilip Kumar
Saira Banu's heartfelt social media reminiscence of her engagement and marriage to Indian cinema legend Dilip Kumar, sharing cherished moments and surprising twists in their love story.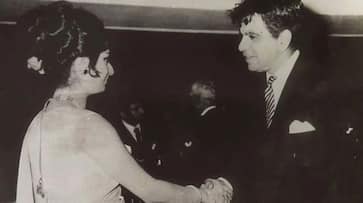 Former actress Saira Banu recently turned to her social media platform to reminisce about a cherished memory from her past with her husband, the legendary figure of Indian cinema, Dilip Kumar. Banu shared a set of photographs showcasing moments from their history, including one that captured the special occasion of their engagement. Accompanying these timeless black-and-white snapshots, Saira Banu penned a heartfelt caption "This date is dearest to my heart because on 23rd August, 1966 Dilip Sahib walked into my House and my Heart to wish me for my Birthday and wonder of wonders! The very next week, Sahib sought my hand in marriage from my grandmother Shamshad Abdul Waheed Khan's approval. Consequently, on this day October 2nd, we had a quiet family ceremony where Dilip Sahib and I exchanged engagement rings and my dream of becoming Dilip Sahib's wife stepped onto the threshold of coming true."
She further added "To the entire world, this was a bolt from the blue because nobody had ever imagined this possibility since we had never worked together and had never been propelled as an 'Ideal Couple' by the imaginative media and so this news created a storm worldwide. This happening has beautiful sentimental parts to narrate as well as hilariously funny incidents that ensued which I shall write about later. #EngagementDay," The couple, Saira Banu and Dilip Kumar, exchanged their vows in October 1966, and their enduring partnership continued until Dilip Kumar's passing in July 2021.
ALSO READ: Gandhi jayanti 2023: Know how filmmaker Rajkumar Hirani showed 'Gandhigiri' through his movies
Last Updated Oct 2, 2023, 4:57 PM IST