Resolution for 2020: Huccha Venkat aims to be out of controversy, Vatal Nagaraj not to use animals for protest
While KS Eshwarappa has no resolution, Vatal Nagaraj thinks it's insulting to name animals after politicians and will refrain from employing them in protests. Huccha Venkat seeks to remain out of any controversy in 2020.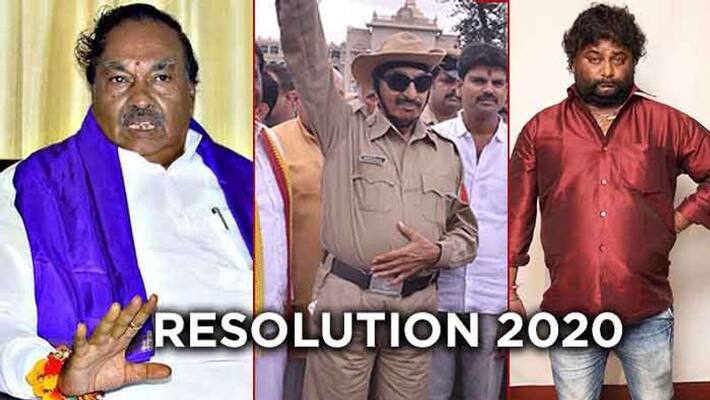 Some of the controversial leaders, actors and politicians have made news in 2019 for their comments and for the coming year have set rules for themselves.
While minister KS Eshwarappa, who is known to make tongue in cheek comments, surprisingly said he does not have a resolution for 2020. Another interesting personality, Vatal Nagaraj, who has a record for staging over 1000 protests in his life and uses animals ranging from, donkeys, horses, goats, pigs, cows and dogs all this while, does not want to use any animal henceforth.
His reason to arrive at such a decision is noteworthy though:
The donkey is a sacred animal. According to scripture, Lord Shiva had fallen at its feet. Vaayu (the lord of wind) was angry and he left heaven. The deities approached Shiva and asked him to bring Vaayu back. During the search, he found a donkey breathing and understood that Vaayu had taken shelter in the donkey's body and tied the creature's leg to bring him back.
 "This is the reason donkey is highly regarded. Dogs are very loyal and are considered a man's best friend after books. Hence, I don't want to humiliate animals by naming them after politicians. It will be an insult to animals," said Vatal.
Another controversial personality Huccha Venkat who is known to attack the public, for reasons unknown to them, has said he only wants to work and remain out of controversy in 2020. 
Last Updated Dec 31, 2019, 5:26 PM IST