RDX OTT Release: Shane Nigam, Neeraj Madhav, Antony Varghese starrer out on Netflix
Shane Nigam, Neeraj Madhav, Antony Varghese starrer "RDX," has made its debut on the OTT platform on Sunday( Sep 24). The movie is available on Netflix.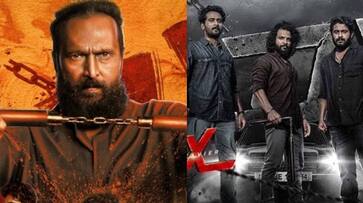 The surprise hit of the year, "RDX," has made its debut on the OTT platform, captivating audiences once again. The film started streaming on Netflix today (Sep. 24), and early responses indicate that the movie, which received immense love at the box office, is now making waves in the digital realm.
Social media platforms, particularly Twitter, have been flooded with praise and appreciation for "RDX." Viewers are sharing their excitement by reliving the film's thrilling moments through screen recordings from their theatrical experiences.
The film's success owes much to the exceptional talent involved. Sam CS's music, the stellar performances of Antony Varghese, Pepe, and Neeraj, as well as their commanding screen presence, have garnered widespread acclaim. Fans have also enthusiastically welcomed Babu Antony's performance, especially his remarkable fight sequence in the climax, which continues to receive accolades even in the OTT space.
Interestingly, the anticipation is high as fans await to see how director Lokesh Kanakraj utilises Babu Antony's talents in the upcoming film 'Leo,' where Babu Antony is set to play the role of Sanjay Dutt's right-hand man.
At the same time, RDX has reached the fourth position in Kerala's highest collection list of Malayalam films of all time. RDX has recently surpassed Drishyam and Bheeshma Parvam in the list. '2018' tops the list of the highest-grossing Malayalam films of all time in Kerala, followed by Pulimurugan and Lucifer.
'RDX' is directed by Nahas Hidayath, a novice director. Sophia Paul, producer of Minnal Murali and Bangalore Days, has produced RDX under the banner of Weekend Blockbusters. The music is composed by SAM CS, who was also the music director of Kaithi and Vikram Vedha.
RDX is an action-packed movie designed to provide entertainment. The action choreography and its execution are key elements that captivate the audience.
The film incorporates typical elements found in mass entertainers, including revenge, romance, and songs. It also features the backdrop of a perunnal (church festival) where conflicts occur.
Last Updated Sep 24, 2023, 2:52 PM IST