Ranbir Kapoor looks upset with Neetu Kapoor; netizens notice his facial expression-WATCH VIDEO
Did Ranbir Kapoor get angry with his mother, Neetu Kapoor, when they unveiled Raha Kapoor's first image? Many social media users believe the Brahmastra star was upset with his mother. Take a look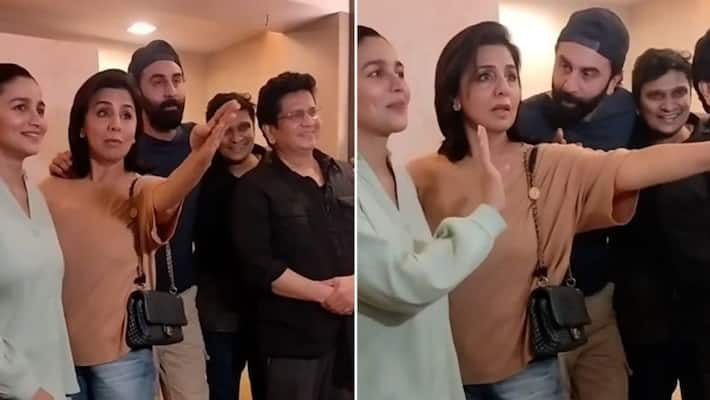 Ranbir Kapoor and Alia Bhatt met the paparazzi yesterday, showing them the first snapshot of their darling daughter Raha Kapoor and on-site them for no photo policy, similar to Anushka Sharma and Virat Kohli. 
While Ranbir and Alia joyfully posed for photographs with every photographer, Dadi Neetu Kapoor was also present. Many netizens believe that RK became irritated with his mother when she asked the photographer to shine a light on her while taking shots.
Also Read: 'Popcorn ka dam kam kijiye': Jackie Shroff's amusing request to CM Yogi Adityanath
Neetu instructs the photographer to bring the light, Ranbir Kapoor calms her down and says he is getting it, and the Brahmastra actor's facial expression changes, according to netizens, who think he is furious with his mother.
As they say, everything you see with your eyes is not real, and the nod. What Kapoor youngster discussed with his mother is only known to them. So judging based on videos is incorrect.
Also Read: Bollywood seeks UP CM Yogi Adityanath's help to stop the #BoycottBollywood trend
Alia Bhatt and Ranbir Kapoor welcomed their beautiful princess on November 6. After two months, they arranged this meeting with the paparazzi and asked them not to photograph their daughter in public. When it comes to Raha Kapoor, her images will never be seen again, which disappointed Alia and Ranbir fans because they were hoping to catch a peek of the little one. Fans of RK and Alia are expecting to catch a glimpse of Raha one day.
Last Updated Jan 8, 2023, 10:20 AM IST