Rakhi Sawant faces backlash amid claims of 'approaching' Alia Bhatt, Vidya Balan for 'biopic'
In a recent video, Rakhi Sawant claimed she has approached Alia Bhatt and Vidya Balan to play her in her upcoming biopic. This video went VIRAL on Instagram, resulting in Rakhi Sawant facing backlash and anger from netizens.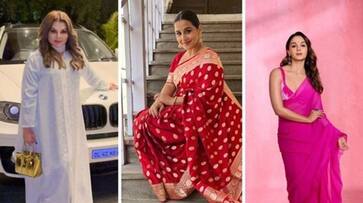 Rakhi Sawant, known for her unabashed and unfiltered personality, never fails to entertain her audience. The actress has once again managed to steal the limelight with her latest revelation. In a recent video, Rakhi claimed she had approached Alia Bhatt and Vidya Balan to play her character in her upcoming biopic. While the life of reality TV icon Rakhi Sawant is undeniably as dramatic as a movie. Her journey from where she began to where she is today is short of fascinating. However, the choice of these A-list actresses to portray her has met with scepticism and outright mockery from netizens.
ALSO READ: Jawan: Atlee finally reacts to claims that 'villain' mask was copied from iconic film 'Dark Knight Rises'
Soon after the video went viral, netizens began mocking the actress in the comment section. While some are laughing constantly. Some have also suggested that the actress should stop making such absurd claims.
One user wrote, "Alaa Bhatt soch rahi hogi ye kaise ho sakta hai (Alia Bhatt must be thinking how is this possible)," Another user wrote, "Iska biopic Kiya toh uski biopic khatam (If they did her biopic, then there will be no biopic of them)." A fan shared, "Oh Alia Bhatt acha mazak hai? Kuch bhi ??? (Alia Bhatt? Nice Joke!)." "Dolly Bindra best rahegi ya Bebika (Dolly Bindra or Bebika will be the best choice)," wrote another user.
Recently, Tanushree Dutta made a significant allegation against Rakhi Sawant and labelled her a psychopath. During a press conference, Tanushree and Adil Khan Durrani, ex-husband of Rakhi, claimed that Rakhi was responsible for the deaths of two boys who took their own lives because of her actions. On the other hand, Adil alleged that Rakhi had even plotted to have him killed.
For those unaware, Rakhi Sawant accused Adil Khan Durrani of physical abuse, while he countered by calling her the biggest mistake of his life. This domestic dispute has further fuelled the ongoing fascination with the personal life of Rakhi Sawant. The couple tied the knot last year, although they officially formalized their union several months later.
ALSO READ: HOT Photos: Disha Patani looks SEXY as she flaunts cleavage and her hourglass figure in plunging bodycon dress
Last Updated Sep 25, 2023, 4:39 PM IST