Ponmagal Vandhal review: Did Jyothika, Suriya surpass the mediocre-level bar?
Tamil actress Jyothika's film Ponmagal Vandhal hit the OTT screens today. Produced by Suriya, the film delves into child abuse and courtroom drama. This is director JJ Fredrick's debut film. Did he succeed in making a mark his first attempt? Did Jyothika drive home the much-needed social message? Here's the movie review on Asianet Newsable.
Here's another Suriya-Jyothika production. Ponmagal Vandhal starring Jyothika, Parthieban and K Bhagyaraj has attempted to deal with a sensitive subject like child abuse, along with courtroom drama. After movies like Jackpot and Raatchasi, was Jyothika compelling in the debut film of director JJ Frederick? Here's the review of the Tamil movie Ponmagal Vandhal on Asianet Newsable.
Check out the trailer here:
Child abuse is definitely a subject that needs an impactful plot, strong characters, and when it's clubbed with courtroom drama, one needs gripping evidence, unexpected twists to keep the audience in rapt attention. Ponmagal Vandhal starring Jyothika, Parthieban and K Bhagyaraj has attempted to deal with a sensitive subject like this. After movies like Jackpot and Raatchasi last year, I expected something refreshing this time from a promising actress like Jyothika. Before I tell you whether she met my expectations or not, let me delve into the basic plot.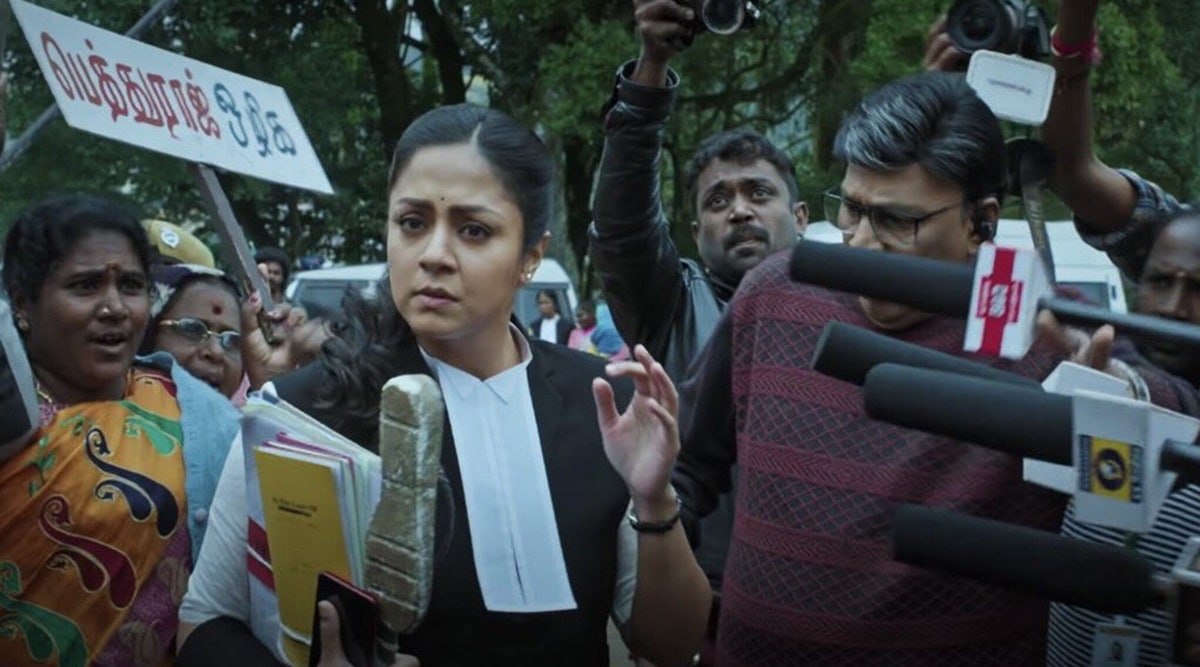 Petition Pethuraj, played by Bhagyaraj, is famous for filing petitions at the district sessions court in Ooty, Tamil Nadu. His petitions have ensured a tea seller is punished for a fly in the tea glass or a cop is reminded of his duty while dealing with even a trivial case. And one day, he makes heads turn by reopening a 2004 case in 2020 involving a serial killer Psycho Jothi, a woman who tortured and killed children. While Pethuraj's advocate-daughter Venba, played by Jyothika, defends Jothi in this case, Rajarathinam, played by Parthieban, is the public prosecutor. Is Jothi the true criminal as proved in 2004 forms the rest of the story.
What works:
I must say the comfort of the couch in the living room, letting you watch the flick in the comfort of your home, thanks to this OTT release, is a big boon. And that sure works. As the movie commences, the dramatic scenes and the poignant background score makes you want to pause and find out who the music composer is. And Govind Vasantha scores. Performance by Parthieban with his timely rejoinders makes him endearing. That Jyothika's performance is brilliant especially in emotional scenes when she breaks down is not new. But there is a scene where she wails in anger and disappointment and that is par excellence.
What doesn't work:
This is director JJ Fredrick's debut film. He apparently left his 10-day-old baby behind to shoot this film in Ooty. Well, I'd say he'd have been better off taking care of the little one. We are talking of child abuse and courtroom drama like I mentioned in the beginning, and I must say there was nothing but melodrama throughout this movie. While evidence and facts play a role in a sensational case, how can one win a case with just soliloquies? It beats me! Editing by Ruben is just about fair and so is the cinematography by Ramji.
Ratings:
I give this movie 2 stars. One for Parthieban's performance coupled with the theme of the movie and the other for the brands Jyothika and Suriya. This was a letdown by Jyothika, who seems to carry a 'forever-stiff' look in her recent movies. However, this was way better than the last film starring Suriya - Kaappaan, meaning protector. We sure needed some protection from the torture in the theatre then. We'd have perhaps spent that money for better healthcare, like she mentioned recently.
All said and done, according to Human Rights Watch projects, India witnesses more than 7,200 minors' rapes every year. Ponmagal means precious princess. It's time every man with a devious mind is taught a tough lesson when he preys on these dainty princesses.
Last Updated May 29, 2020, 5:28 PM IST