Pawan Kalyan stopped from entering Andhra Pradesh after lying down on road to protest - WATCH
When Pawan Kalyan and his convoy got stopped and halted from entering Vijayawada, he stepped out of his car and also lay down on the road. This video is now VIRAL on the internet and has shaken people.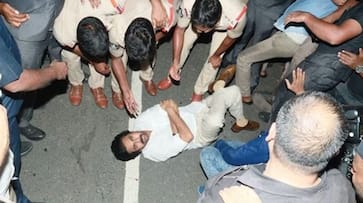 Janasena party president Pawan Kalyan's convoy got stopped by the Andhra Police in the NTR region. It also resulted in a high-voltage drama. The actor-politician who was en route to Vijayawada, in the light of Telugu Desam Party (TDP) chief N Chandrababu Naidu's arrest at Nandyala on Saturday, his entourage was stopped twice, which later resulted in the actor lying on the road, in a bid to protest against cops interrupting his convoy. He got detained. Several clips and pictures from the night are getting circulated on social media.
ALSO READ: Sunny Deol finally addresses his fall out with Shah Rukh Khan after Darr
In one of the photos, one can see Pawan Kalyan lying on the road. The cops and the police officials are trying to convince him to get up. Meanwhile, a Jansena leader, Nadendla Manohar, shared a video on X. In the now VIRAL video, Pawan Kalyan was witnessed saying, "It looks like we need a visa and passport to enter Andhra Pradesh at this juncture."
"Actor Politician Pawan Kalyan was not allowed to enter Andhra. He was going to mangalagiri for the Janasena PAC meeting held tomorrow."
After detaining Pawan Kalyan, Nandigama Sub-Divisional Police Officer Janardhan Naidu told the renowned Indian wire press agency, "We have taken Kalyan and Manohar into preventive custody. We are taking them to Vijayawada."
Earlier, while reacting to the arrest of Chandrababu Naidu, Pawan Kalyan had told the press, "The manner in which the former chief minister got arrested today is sad. We condemn in the strictest terms the way the state authorities and the ruling party are making arrests on the orders of one leader (CM Jagan)."
For the unversed, Chandrababu Naidu was arrested by the Criminal Investigation Department (CID) in connection with the Skill Development Corporation scam early Saturday morning. The former CM was taken by road to Vijayawada following the arrest. He is getting grilled and interrogated by the Andhra Pradesh CID team in the alleged Skill Development scam.
ALSO READ: Farah Khan breaks silence on why stars do not like leaving Karan Johar's house parties early
Last Updated Sep 10, 2023, 4:19 PM IST