Nadikalil Sundari Yamuna REVIEW: Is Dhyan Sreenivasan, Aju Varghese's film wins audiences heart? Read THIS
Nadikalil Sundari Yamuna Twitter Review: Nadikalil Sundari Yamuna, a Malayalam comedy-drama, hit theatres on September 15, 2023. Read some Twitter reviews as audiences share their thoughts on this film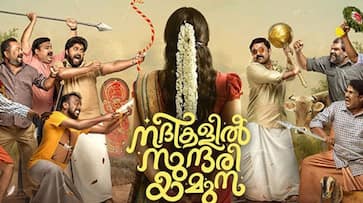 Nadikalil Sundari Yamuna Movie Review: The film, directed by Vijesh Panathur and Unni Vellora, stars Dhyan Sreenivasan and Aju Varghese in the key roles. The film was produced by Vilas Kumar and Simi Murali under the company of Cinematica Films LLP, with music by Arun Muralidharan. Rathin Radhakrishnan edited the film, while Faizal Ali was the cinematographer.
Crescent Release, through Cinematica Films, is responsible for distributing the film.
About Nadikalil Sundari Yamuna
The plot is set in Kannur's countryside and focuses on two average young men, Kannan and Vidyadharan, played by Dhyan Sreenivasan and Aju Varghese, respectively. Yamuna Nadikalil Sundari The Cast and Crew Sudheesh, Nirmal Palazhi, Kalabhavan Shajon, Nawaz Vallikunnu, Aneesh, Parvana, Amy, Unniraja, Bhanu Payyannoor, Devaraj Kozhikode, Rajesh Azhikodan, Sohan Sinulal, Sarath Lal, Kiran Ramesh, Vismaya Sasikumar, and many newbies round out the ensemble cast.
Also Read: Mark Antony REVIEW: Is Vishal, SJ Suryah's action drama worth watching? Read THIS
Arun Muralidharan wrote the film's soundtrack with lyrics by Manu Manjith and Harinarayan, while Shankar Sharma provided the BGM. The song rights are controlled by 'Sarigama,' and following the film's theatrical release, leading OTT business HR OTT purchased the film's OTT rights. 
Faizal Ali is the film's cinematographer, Rathin Radhakrishnan is the editor, Ajayan Mangadu is the art director, and Jayan Poonkulam is the makeup artist. Sujith Mattannur is in charge of costume and design, while Prijin Jessie is the Chief Associate Director. Animash is responsible for project design, Liju Prabhakar is the colorist, Sreejith Sreenivasan is the sound designer, Vipin Nair is responsible for sound mixing, and Anjali Nambiar is the financial controller. 
Also Read: Aditi Rao Hydari shares a photo for rumored partner Siddharth; check out here
Mehmood is the production manager, Prasad Nambiangav and Anish Nandipulam are the production executives, and Sajeev Chanthiroor is the production controller. Vazhur Jose, AS Dinesh, and Athira Diljith are the film's producers, with photography by Santhosh Pattambi and digital marketing by Anoop Sundaran. Promotion Rohit K. Suresh captured the stills.
The long-awaited release of "Nadikalil Sundari Yamuna" has arrived, exciting moviegoers. Watch for informative Twitter reviews as people express their thoughts on this comedy film, which promises an engaging cinematic experience.
Last Updated Sep 15, 2023, 10:03 AM IST