Maine Pyar Kiya: Was Salman Khan not 'original choice' to essay role of Prem by Sooraj Barjatya? Know details
The movie Maine Pyar Kiya, which catapulted Salman Khan to overnight stardom, was initially offered to another actor. To find out who that actor was, read more details. It is an unknown fact and trivia that has surfaced now. Initially, Salman was not the first choice to essay the role of Prem in the iconic film.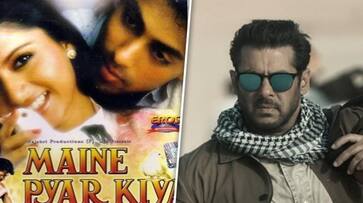 Salman Khan is ready to make a powerful and smashing comeback on the big screen with the eagerly awaited Tiger 3. The renowned Bollywood action star began his film journey as a romantic hero in Sooraj Barjatya's Maine Pyar Kiya. Interestingly, Salman wasn't the initial choice for the film. For people unaware, it is true that the character of Prem in Maine Pyar Kiya had been offered by the filmmaker Sooraj Barjatya to the multi-talented actor, singer, lyricist, musician, and screenwriter personality Piyush Mishra.
ALSO READ: Does Sofia Vergara find 'love' again in orthopaedic surgeon Justin Saliman amid 'relationship' rumours?
In an interview with a leading Hindi YouTube entertainment portal, Piyush Mishra revealed a fascinating and unknown yet interesting trivia story from his past. He narrated being in his final year at the National School of Drama (NSD) when Rajkumar Barjatya, the father of Sooraj Barjatya, approached him for a meeting at the Rajshri office in Prabhadevi, Mumbai.
Mishra humorously referred to this as a beautiful accident and shared, "My director (of NSD) called me to his room. Now, I was very handsome in my time. When I went to the chamber, I was introduced to Rajkumar Barjatya. He said they are making a film called Maine Pyar Kiya. They have shortlisted the girl, and now they have come to NSD to find the male lead."
Piyush also revealed that he initially agreed to meet but didn't follow through. At that time, he carried bitterness towards the world for many reasons. It was only three years later that he finally visited, and he discovered that Salman Khan had become a star with the film's success. Piyush viewed this development as remarkable. He added that had he gone back then, he would not have been able to pursue the kind of work that he ultimately did.
Maine Pyar Kiya, a 1989 Hindi-language romantic musical film, was directed by Sooraj Barjatya, who co-wrote the screenplay with S.M. Ahale. Maine Pyar Kiya was produced and bankrolled by Rajshri Productions. The cult movie stars Salman Khan and Bhagyashree, marking the cinematic beginnings of both the director and the actress. Prior to this film, Salman Khan had a supporting role in Biwi Ho To Aisi (1988).
ALSO READ: Bigg Boss 17: Ankita Lokhande talks about Sushant Singh Rajput to Abhishek Kumar; says "he was perfectionist"
Last Updated Nov 8, 2023, 12:10 PM IST