Kusha Kapila shares deep note on painful days after announcing divorce from Zorawar Ahluwalia
Kusha Kapila, a well-known social media influencer and actor, announced her separation from Zorawar Ahluwalia in July of this year.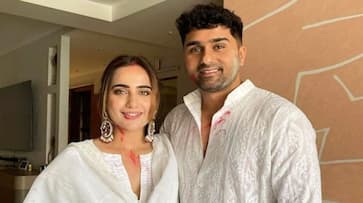 Kusha Kapila, a well-known comedian and social media personality, and her spouse Zorawar Ahluwalia have separated. In July, Kusha posted on Instagram that she and her spouse had separated. In addition to being a viral online celebrity, Kusha is a successful performer who dazzled audiences and fans in the 2020 horror anthology, Ghost Stories. Despite going through a difficult period personally, the actor-comedienne is doing everything in her can to amuse her fans and supporters. The social media sensation wrote a lengthy statement on Sunday, however, in which she discussed the 'grief' of separation and how she is working hard to get over it. 
ALSO READ: Vijay Raghavendra's last post with wife Spandana goes viral after her death; fans share condolences
"It's a weird thing, this grief or whatever version of it I am currently experiencing. As overcome I am by its heaviness - I guess chest days feel like this - I am also strangely dwarfed by it, to the point of feeling like an injured nail on a pinky toe. Almost like a big bang in motion, only it's on a microscope slide." Kusha continued, "The presence of loss isn't as irritating as the notion – what if it never leaves me.'' She was unsure whether her grief would ever 'leave' her. Are we mutually exclusive? Does this last forever? like a vaccination scar from the 1990s on the left upper arm? Or was it accurate? Will we get along better as time goes on, or will we just learn to get along as friendly roommates till our lease is up? I'd like not to be renewed.
Speaking of the various ways that going through a divorce has "changed" her, Kapila continued, "I really believe it has irreparably impacted the way I look, eat, talk, and exist. I experience myself as a slightly altered version of myself. I cling to my fave tunes as though they could leave me if I don't play them often. No fresh music for my enduring sorrow. It is reassuring to be familiar. That soup is my chicken. New is unsettling and nearly paralysing. "There is enough and more literature available on grief but none enough to prepare you. It does have its stages, that I can tell you. Yours truly thought she had evaded most stages, maybe even, grief altogether (obviously, stage one, denial). And then it hits you, like a big bang but on a microscope slide. You watch all of it happen. After all, you are behind the lens. It's your eye on it."  she added.
ALSO READ: Kushi: Get ready for the trailer starring Vijay Deverakonda, Samantha Ruth Prabhu releasing on THIS date
Last Updated Aug 7, 2023, 5:51 PM IST