Koffee With Karan 8: Sara Ali Khan, Ananya Panday share candid aspirations on 'Kouch'
Sara Ali Khan and Ananya Panday will feature in Koffee with Karan 8, where they share aspirations and address dating rumors in a playful banter with Karan Johar. The episode premieres on Disney+ Hotstar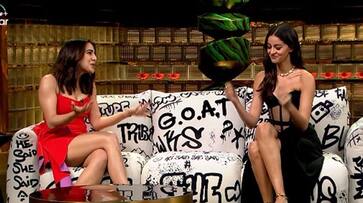 The excitement for the upcoming third episode of Koffee with Karan Season 8 is building as it is scheduled to release at midnight. This episode will feature the dynamic duo of actresses Sara Ali Khan and Ananya Panday engaging in a candid conversation with the show's host, Karan Johar. Fans are eagerly awaiting this episode, hoping to glean some intriguing insights into the actresses' lives, including possibly juicy details about their romantic escapades. A teaser has already provided a glimpse of their witty banter, and a new video has been shared, showcasing the two actresses engaged in some intriguing manifestations on the infamous Koffee with Karan couch.
Sara Ali Khan and Ananya Panday, who are best friends, are all set to bring their charisma to the third episode of Koffee with Karan Season 8. Seated on the iconic couch, which has a reputation for turning past manifestations into reality, the duo shared their current aspirations in the newly surfaced video. Sara expressed her desire for inner peace and the opportunity to work on great films, while Ananya manifested love, respect, and the dream of collaborating on a film with none other than Karan Johar himself.
Also read: Hailey Bieber radiates elegance in Victoria's Secret holiday lingerie campaign [PICTURES]
In the sizzling preview of the episode, Sara Ali Khan addressed the swirling rumors about her dating cricketer Shubman Gill with a humorous twist, asserting that the world is focusing on the wrong 'Sara.' Adding to the playful banter, both Sara and Karan playfully teased Ananya about the speculation surrounding her alleged relationship with Aditya Roy Kapur. They inquired about how she is 'managing her nights,' injecting some light-hearted humor into the conversation.
ALSO READ: Patrick Dempsey named Sexiest Man Alive in 2023, netizens disagree
Last Updated Nov 8, 2023, 12:50 PM IST