Keraleeyam 2023: Top South Indian actors share stage for Kerala Day; Mohanlal's selfie click goes viral
Kerala kicked-off a week-long celebration called "Keraleeyam " on the occasion of Kerala Piravi (Kerala Formation Day) on Wednesday (Nov 1). The inaugural event was graced by actors like Kamal Haasan, Mammootty, Mohanlal and Shobhana.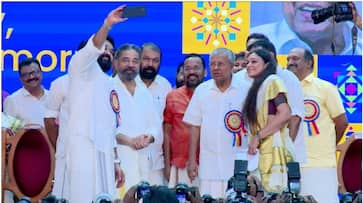 Thiruvananthapuram: The week-long 'Keraleeyam' event organised by the state government kicked off on Wednesday (Nov 1) on the occasion of Kerala Formation Day. The inaugural ceremony witnessed the presence of India's legendary actors like Kamal Haasan, Mammootty, Mohanlal and Shobhana. Now, a selfie clicked by Malayalam superstar Mohanlal is going viral on social media. The Pulimurugan actor took a selfie at the venue of Keraleeyam and in the photo, the actors and Chief Minister Pinarayi Vijayan posed for the click. 
Also read: Kerala Day 2023: Know history, significance, celebration and more
Addressing the gathering, Mohanlal said that he is proud to be a Malayali. While thinking about the future plans of Kerala, as a person from the film industry, he said that he should think of ways to bring more audience to watch the film. Mohanlal said that it will be possible for Kerala as the first state to establish the Film Development Corporation and the Film Academy.
Mohanlal also said that he belongs to Thiruvananthapuram district and it is a place where such gatherings are always held. He added that he is grateful that the capital city itself was chosen as the venue for such an event. 
Prominent people in the field of art and culture were also present at the inauguration ceremony. The event was inaugurated by CM Vijayan, who lit a traditional lamp in the presence of cabinet ministers and invitees.
Chief Minister Pinarayi Vijayan said in his opening speech that this is an opportunity for all people who are proud to be Keralites to share that joy with the world. Kerala is unique in every field.
The Chief Minister added that Kerala, where everyone can live together without caste and religious hatred, is the only key to preventing ethnic conflict in many parts of the world.
During the seven-day Kerala festival, approximately 200 notable people from both inside and outside the nation will participate in 25 seminars at 42 venues that will focus on Kerala's future. In the evening, events at 30 different venues will feature almost 4,100 artists. The event will feature film festivals, trade shows, food fairs, exhibitions, and more in addition to these cultural presentations.
Also read: Kerala set to organise week-long celebration "Keraleeyam" on occasion of statehood day
Last Updated Nov 1, 2023, 5:37 PM IST