Jawan: Shah Rukh Khan starrer shatters records with over 700 crore+ recovery; breaks Pathaan's collections
Shah Rukh Khan's 'Jawan' breaks Bollywood records with ₹700+ crore recovery, surpassing 'Pathaan,' marking a new era in Indian cinema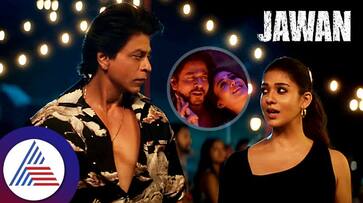 In a remarkable feat for Bollywood, Shah Rukh Khan's latest film, "Jawan," has shattered records by amassing over ₹700 crore in recoveries from various revenue streams. This astounding achievement has surpassed the previous record-holder, "Pathaan," which had grossed over ₹650 crore.
Released just last month, "Jawan" has enjoyed tremendous success at the worldwide box office, accumulating a staggering ₹1,134 crore as of its fifth weekend. Out of this, ₹743 crore has been generated within India, while ₹391 crore has come from overseas markets. Industry insiders predict that the film's final global earnings are expected to settle around ₹1,170 crore.
It is important to note that not all of these earnings go directly to Shah Rukh Khan, who is also a producer of the film. Typically, around 40 percent of the total gross earnings find their way into the producers' coffers. For "Jawan," the worldwide distributor's share is estimated at ₹480 crore, with ₹310 crore attributed to the domestic market and ₹170 crore from overseas. In addition to these earnings, "Jawan" has also fetched an impressive sum for its non-theatrical rights, raking in ₹250 crore from digital, satellite, and music rights sales.
Cumulatively, these revenue streams amount to ₹730 crore, setting a new benchmark not only for Bollywood but also marking the first time that a film has surpassed ₹700 crore in recoveries. "Pathaan" had previously held the record with recoveries exceeding ₹660 crore.
ALSO READ: Nayanthara to star in Sanjay Leela Bhansali directorial with Ranbir Singh, Alia Bhatt? Here's what we know
The production and release costs for "Jawan" were around ₹350 crore. Therefore, after factoring in distributor and sub-distributor shares, Shah Rukh Khan's home production company, Red Chillies Entertainment, is expected to yield a surplus of approximately ₹350 crore.
The detailed breakdown of recoveries for "Jawan" is as follows:
Theatrical:
India (Hindi): ₹280 crore
India (Dubbed): ₹30 crore
Overseas: ₹170 crore
Non-Theatrical:
Digital, Satellite, and Music Rights: ₹250 crore
Total: ₹730 crore
Shah Rukh Khan continues to set new milestones in the Indian film industry with his relentless pursuit of excellence, and "Jawan" is yet another testament to his star power and box office prowess.
Last Updated Oct 10, 2023, 11:11 AM IST