Is Selena Gomez getting married? Singer's wedding gown images going viral fuels rumors; know details
Singer Selena Gomez's recent pictures in a wedding gown went viral on the internet, shocking the fans. But here is the entire story about it.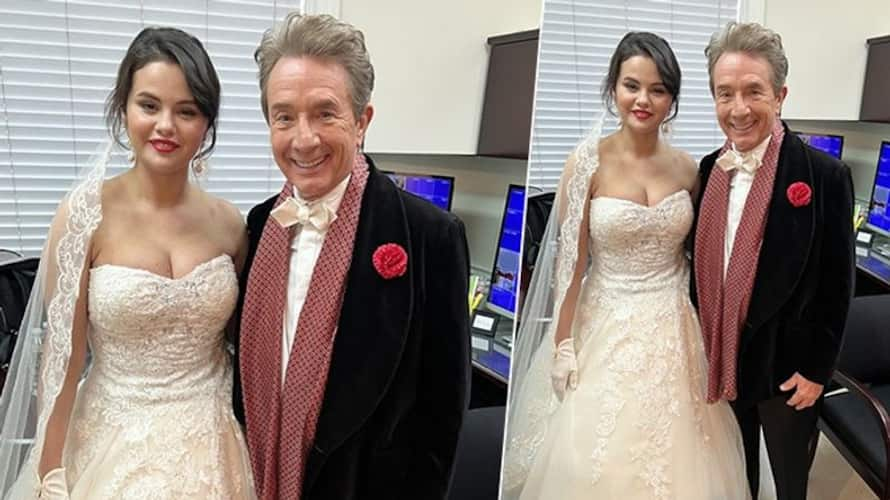 Is the Baila Conmigo singer and actress Selena Gomez getting married? Well, the songstress's wedding rumors sparked after she was spotted in the streets of the US wearing a gorgeous white wedding gown. 
In pictures that went viral on social media platforms, Selena wore a grand off-shoulder wedding gown, sporting a veil. However, before you wonder who is Selena Gomez's husband and what is happening, let us clarify, it seems to be a scene from her show, Only Murders in the Building Season 3 shooting, which is currently happening.
ALSO READ: Selena Gomez becomes most followed global icon; clocks 400 million amid ongoing Hailey, Kylie drama
On Tuesday, paparazzi spotted Selena walking on the sets of her show wearing the wedding gown, taking every person and crew's breath away with her mesmerizing looks. While it was enough to spark curiosity, her Only Murders in the Building co-star and Hollywood icon, Steve Martin, took to Twitter and shared a picture with the on-screen bride. He hinted at a wedding in the series with his caption. "Turns out this happened, too," read his caption. The pictures took no time to go viral.
"I AM SO EXCITEDDD THIS SEASON IS GOING TO BE CRAZYYY," said a fan. "She looks so pretty in the wedding dress and veil," another fan added. "This has just given me the will to live," a fan added.
Selena also shared behind-the-scenes pictures from the sets and wrote, "I have no caption. Just a regular day at work. @onlymurdershulu." In the pictures, Selena was seated on the floor with a soda can in her hand. She is giving a bright and vibrant smile while posing for the cameras. She also revealed she was wearing a pair of shoes with her gown.
Only Murders in the Building season 3 is currently getting shot and filmed, which is why there is no release date.
ALSO READ: Malaika Arora reveals how people felt she made a 'mistake' dropping the 'Khan' surname post-divorce
Last Updated Mar 22, 2023, 2:27 PM IST