House of The Dragon: 'Game of Thrones' prequel's season 2 premiere time announced; will release on this date
Exciting news for 'Game of Thrones' fans as 'House of The Dragon' Season 2 is confirmed for a thrilling 2024 premiere. The Targaryen legacy continues.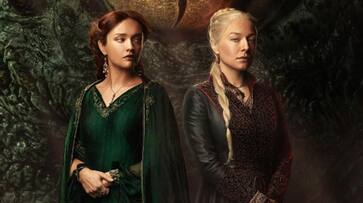 Exciting news is on the horizon for fans of both "Game of Thrones" (GoT) and "House of the Dragon" (HoD) as the highly anticipated second season of "House of the Dragon" is set to make its premiere in the coming year. This prequel series, consisting of 10 thrilling episodes, successfully captures the essence and allure that made its predecessor, "Game of Thrones," a massive hit. It boasts an array of captivating elements, from fire-breathing dragons to treacherous political machinations, as well as a stellar cast, resulting in a spectacular production that reimagines the epic "Dance of the Dragons."
The exciting revelation about the upcoming season surfaced during a Warner Bros event in New York City on Thursday, November 2, where HBO's President, Casey Bloys, officially confirmed the return of the next installment of House of The Dragons. The second season of "House of the Dragon" has already completed its filming stage and is currently in post-production. Bloys shared his optimism, stating, "They are done shooting and in post. We hope to have that early summer,"
However, it's worth noting that, as of now, only a rough estimate of the premiere date has been provided, and the precise release date for "House of the Dragon" season 2 remains shrouded in uncertainty.
Set approximately two centuries before the events of "Game of Thrones," this series delves into yet another blood-soaked saga centered around the relentless power struggles for control of the Iron Throne. This time, the spotlight is firmly fixed on the internal conflicts within the Targaryen dynasty, the same lineage that brought us the iconic character of Queen Daenerys Targaryen, portrayed by Emilia Clarke in the original "GoT" series.
The discord within the Targaryen house stems from King Viserys' aspiration to secure a male heir to the Iron Throne. However, when tragedy strikes and he tragically loses his beloved wife during childbirth, he reluctantly designates his first-born daughter, the young Rhaenyra, as his successor. Bearing a resemblance to the resolute and cunning Daenerys, Rhaenyra seizes opportunities with both cynicism and astuteness.
The powder keg of conflict ignites when the chosen heir, Rhaenyra, finds herself pitted against the usurper, Aegon II Targaryen, who happens to be her half-brother, conceived by her stepmother, Alicent Hightower, who was once her childhood confidante and closest friend.
Season 1 of "House of the Dragon" left viewers on the edge of their seats with a vicious dragon battle that claimed the life of Rhaenyra's son, Lucerys. The cliffhanger ending left audiences eagerly anticipating how the resolute queen would seek vengeance for this heart-wrenching loss.
ALSO READ: Garudan Review: Is Suresh Gopi, Biju Menon's thriller film worth watching? Read this
Last Updated Nov 3, 2023, 11:52 AM IST