Has Amber Heard taken insurance company's help to pay $1 million to ex-husband Johnny Depp?
Hollywood actress Amber Heard owed her ex-husband and iconic star Johnny Depp $1 million after losing a libel lawsuit in 2022. The actress's insurance company called her vicious and denied to help her. Here's a new update on the matter.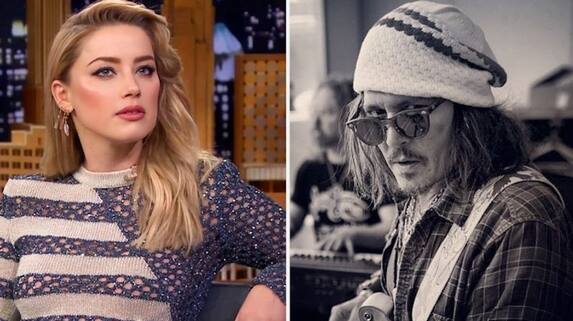 Amber Heard and Johnny Depp were engrossed in a rigorous libel lawsuit through 2022. The verdict of this case came out in Johnny's favour, and Amber was held accountable for paying him $15 million. Johnny settled to get paid $1 million instead of the initial sum declared in the verdict. 
According to recent media reports, the actress finally seemed to have paid her ex-husband Johnny Depp the money she owed him a year after the verdict.
ALSO READ: Will Spider-Man star Tom Holland take short break from 'acting' for year? Here's what we know
'Rum Diary' fame former Hollywood actress Amber Heard reportedly paid Johnny Depp the $1 million she owed him after losing a defamation lawsuit. A leading global entertainment outlet has reported that the actress covered the settlement fee with the help of her insurance company, as stated in the documents her lawyers filed. Johnny won the case against his ex-wife, and Amber was held responsible for paying him $15 million in total, $10 million in compensatory damages, and $5 million in punitive damages.
After the verdict was out after a long six-week trial, both parties agreed to reach a settlement where Amber would pay Johnny $1 million instead of the $15 million. The insurance company of Amber Heard, New York Marine and General Insurance Co., initially refused to cover the fees by saying that she committed a deliberate and vicious act by falsely indicting Johnny.
In an interview with a globally renowned entertainment magazine Depp's lawyer, Camille Vasquez revealed that 'Pirates of the Caribbean' fame Hollywood star Johnny Depp would donate the sum of money paid off by his ex to different charities. She disclosed, "Mr Depp will be donating the money that Ms Heard paid to settle the appeal to a number of charities. Case closed, and we couldn't be happier about it for him in the best possible way."
ALSO READ: Why is Selena Gomez being attacked by trolls for her 'sweatshirt' photos? Know details
Last Updated Jun 9, 2023, 10:07 AM IST