Gadar 2: Utkarsh Sharma reacts to Ameesha Patel's controversial remarks; HERE is what he said
Gadar 2 Star Utkarsh Sharma responds to Ameesha Patel's comments and critiques about his career opportunities in a recent interview.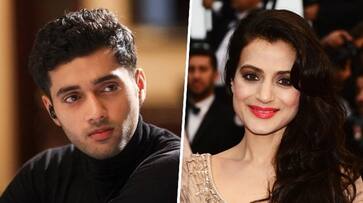 Anil Sharma's recent directorial venture, "Gadar 2," has shattered box office records with the return of Sunny Deol and Ameesha Patel in their iconic roles as Tara and Sakina. The film also introduced their grown-up son, Charanjeet, portrayed by Utkarsh Sharma. Utkarsh, who is also director Anil Sharma's son, made his Bollywood debut in 2018 with "Genius," another film helmed by his father. However, some have criticized his limited casting opportunities outside his father's projects. In a recent interview with Hindustan Times, Utkarsh responded to these discussions, emphasizing the importance of a broader perspective.
Utkarsh Sharma acknowledged the talk surrounding his casting primarily in his father's films and highlighted that, ultimately, financial investment plays a significant role in the industry. He mentioned "Even if your father is directing you, ultimately baat aati hai paise lagaane par. (Ultimately it all comes down to investment). You may know five thousand people in this industry (because of your father), but if they are taking the risk and investing their money on you, it is not because you are the son of so-and-so person, but because they see something in you, which they believe will be profitable for them also."
Regarding Ameesha Patel's earlier comments that Tara and Sakina overshadowed his character in "Gadar 2," Utkarsh"I don't know why she would say such a thing. I have no idea because I am having no problems, and I am getting plenty of projects. As far as the limelight is concerned, I don't know what kind of actors look for the limelight. Even if you have one scene in the film, you can leave an impact and all the actors of Gadar 2 are getting their accolades and share of work. Maybe she is being misquoted. I hope it was not her saying this (laughs)." 
Utkarsh acknowledged facing his share of challenges as the first person in his family to pursue acting. He is determined to create his path and is actively seeking the right opportunities. Despite receiving offers for both OTT and the big screen, Utkarsh is committed to the world of cinema, emphasizing the magic it holds for him. He stated "My focus has always been films and I came to this industry to be part of the films. Even during the lockdown, I was getting offers from OTT, but I was very determined that cinema was the magic I came for. OTT has its own brilliance, but cinema has its magic. So, I may not do an OTT project anytime soon. Even if I am getting more money for an OTT project, I would go for a film." he stated.
ALSO READ: Shahid Kapoor, Kriti Sanon's untitled film gets new release date, avoids clash with 'Merry Christmas', 'Yodha'
Last Updated Oct 4, 2023, 2:47 PM IST