Exclusive – Udit Narayan on completing 40 years in Bollywood: Bitterness of struggle makes success sweeter
In 1980, a struggling Udit Narayan set foot into the playback world of the film industry. 40 years later, the legendary singer looks back on his career in an exclusive interview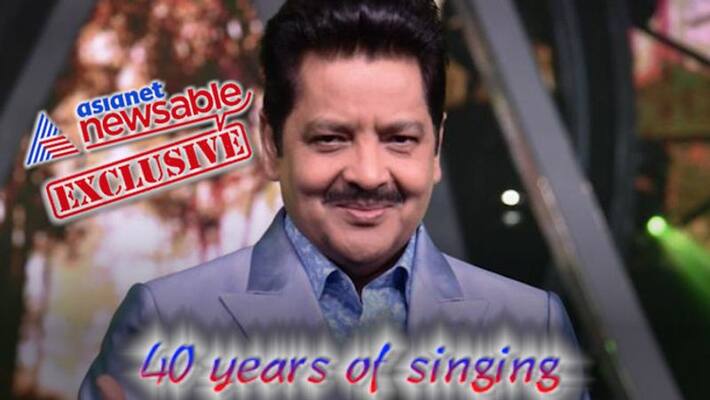 New Delhi: In order to save money, he would walk 10-15 kilometres each day and visit various music rooms and recording studios near Girgaum in a bid to get work. Most singers begin their careers by singing in the chorus, but he stayed away from that. To make ends meet, he started singing at hotels. After a sweltering struggle in Mumbai for 10 years, he finally got a break with the film Unees Bees (1980), in which he sang the song ''Mil gaya…mil gaya'' under Rajesh Roshan's baton on 5th July. His co-singers were legendary singer Mohammed Rafi and Usha Mangeshkar.
"I've been in the Indian film industry for 40 years now. This industry has been kind to me. It has given me everything. I am living a dream. Main toh apne geeton ke madhyam se logon ke dilon ko sukoon dene ki koshish karta hoon," said renowned playback singer Padma Bhushan recipient Udit Narayan, looking back at his career with affection. The singer says he didn't even have a phone back then. "Rajesh Roshan called up all my known haunts and asked them to convey the message that I should reach his studios immediately. I got the message just in the nick of time. I couldn't believe that I would be singing with Mohammed Rafi saab. He saw my nervousness and told me to give my best shot."
Oliver Goldsmith had rightly said, ''Modesty seldom resides in a breast that is not enriched with nobler virtues.'' - In today's times, where show- off has become more important than real talent and arrogance has become synonymous with any tiny achievement, meeting an artiste like Udit Narayan comes as a pleasant surprise. This uncrowned king of male playback singing in Hindi film music, whose several songs still rule the charts, comes across as an extremely simple, down-to-earth friendly guy without a trace of ego.
His path to fame was full of hard work, perseverance and toil. After singing in Rajesh Roshan's Unnees Bees and RD Burman's Bade Dilwala, where his work went unnoticed, he continued his struggle to get a stronger foothold up the popularity ladder. His first major break came, when recommended by the music director duo Anand-Milind, film maker Mansoor Khan decided to give this fresh young voice a chance to sing for debutant Aamir Khan in the film Qayamat se Qayamat Tak. 'Papa kehte hai' was an unprecedented hit song and the rest, as they say, is history.
And even after 40 years now, Udit Narayan, who has crooned several chartbusters, is still going strong. He has launched his own 'YouTube channel' to mark his four decades in Bollywood. The singer talks to Shri Ram Shaw in an exclusive interview about his tedious intervening days and the success story so far. 
EXCERPTS…
Q: Tell us about you background.
Udit Narayan: Our surname is Jha. I come from a Maithili Brahmin family. So, our family has originated in Milthila - a city where Ram and Seeta got married. I grew up in my uncle's place in Bihar which is situated on the Indo- Nepal border. After my matriculation exam, I went to Kathmandu for college education and even worked in Kathmandu Radio. There I received a music scholarship from the Indian embassy and came to Mumbai in 1978 to study classical music in Bharati Vidya Bhavan. In my free time, I started making rounds of music rooms of various music directors.
Q: I know that you started off your career in radio singing songs in Maithili…
Udit Narayan: Yes, yes, I started that way. I was with the Kathmandu Radio station as a folk singer, singing in Nepalese and Maithili, before moving to Bombay and training in classical music at the Bharathiya Vidya Bhavan at Girgaum under Pandit Dinkar Kaikini. From Udit Narayan Jha I became Udit Narayan.
Q: You even acted in a couple of Nepalese movies…
Udit Narayan: During my struggle days almost four decades ago, I acted in a Nepalese film. It was a huge hit. After that, I got several Bollywood and Bhojpuri film offers, but I didn't take them up, because I wanted to focus only on music.
Q: Where do you get this kind of energy to perform with such perfection? How was that struggle period? What do you see when you look back at your journey?
Udit Narayan: I enjoy singing and my fans give me the energy and encouragement. Now looking back, I feel that the struggle is necessary for any artist before he savours his success. The bitterness of struggle makes the success sweeter. As a singer too, the struggle provides you with that inner pain…I am enjoying the success that I have achieved. I sang in 36 different languages, and I have been entertaining people for four decades now. I am thankful to God, my fans, and the film industry. Now, I feel my struggle was worth it.
Q: You don't sing a lot for films now…
Udit Narayan: I am a natural person, who is connected to his roots. God has shown me great times, when I used to sing for every second film. I feel it's good that I don't sing a lot now, because other people should also get a chance. It's good that there is a gap between my tracks, because I get the time to analyse my work now and introspect. I want to retain the dignity and quality of my music. I like to sing only beautiful melodies. Humein garv hai ki jo kaam humne kiya hai who logon ke dimag mein hai (I am proud that my songs are remembered by people even today).
Q: What has the success of Lagaan and its music meant to you, your career?
Udit Narayan: It was and still is like a dream, we knew it would be a hit, but we all were surprised and very, very happy that it got an Oscar nomination. Everyone was devastated when Lagaan did not win. Everyone in India, every Indian, all over the world, was hoping it would get an Oscar. Wherever I go I am asked to sing the Ori Chori maan bhi le the song from Lagaan, people seem to love it so much.
Q: How was it singing the late genius composer Madan Mohan's tunes in Veer Zaara?
Udit Narayan: Oh, it was dream come true! Madan Mohan sahab must have composed those tunes so many years ago but when I heard them first in his voice, I was really thrilled and convinced of their originality. I am thankful for Yash Chopraji to have chosen me to render the songs and even more happy that the audiences have loved my songs.
Q: Which music director do you enjoy working with the most?
Udit Narayan: That's hard to say. I really find Rahman's music most challenging and fun, I also like working with Anu Malik, Uttam Singh and Rajesh Roshan and the very talented Ismail Durbar.
Q: And, your favorite co singer?
Udit Narayan: Again, I like them all. Lata ji is the very best and Alka Yagnik comes close. She is the most talented and versatile among this generation of singers and it is a pleasure to work with her. She is also full of energy and enthusiasm.
Q: One hears all the time about how hard it is to be a successful singer in Hindi movies. There are so many talented singers and none to guide them. What is your advice to fledgling aspiring singers?
Udit Narayan: I had to work very hard and be very patient to get to where I am today. Hard work is the key, do not give up. Keep working hard till you have what you have always wanted, and you will get it.
Q: Did you expect to be felicitated with the Padma Bhushan?
Udit Narayan: I always wanted to become a famous singer, who would be remembered by people and whose songs would play on the radio. My father was a farmer, and I used to live in a village in Nepal. I started singing in my village and in my school. People used to love my voice. My mother was a folk singer, so even I started singing folk songs. But my father wanted me to become a doctor or an engineer. Magar wahi hota hai jo manzoor-e-khuda hota hai (Whatever is destined to happen, happens). I was so inclined towards music that I used to sing for a radio in Kathmandu. Then I got a musical scholarship from the Indian embassy in Nepal, and I came to Mumbai. After struggling for 10 years, I got my first major break with QSQT. So, from being a boy from a village to receiving a Padma Bhushan, it seems like a dream. I feel I deserved the award. But I never expected to get one.
Q: What do you think about the Bollywood songs that are made today?
Udit Narayan: I don't want to criticise anyone, but the times have changed. The songs of the past, which were sung by Mohammed Rafi, Kishore Kumar, Lata Mangeshkar, Manna Dey and Mahendra Kapoor, are evergreen, and are enjoyed even today. But many songs that are made today are not up to the mark. Films make a lot of money, but the songs are very short-lived. Though technically things have become advanced now, the quality of the work has gone down. I feel fortunate that I belong to that era and I got a chance to work with such talented music composers.
Q: What are the changes that you brought about in yourself to move with the times?
Udit Narayan: Over the years, I never hesitated from adapting to the way a music composer would want me to sing a song. The way tracks sound today is different as compared to the past. So, keeping my identity and quality intact, I've been open to trying out various styles of singing. I enjoyed that. You are considered versatile only if you adapt to the changing times.
Q: A lot of old songs are rehashed and used in today's films. How do you look at this trend?
 
Udit Narayan: Earlier, music directors used to have their own style and identity. They used to come up with authentic creations. Even today, many composers are talented, but people are westernising old songs by changing its lyrics and presenting them again, which is wrong. It's not their creation. Maybe a rehashed song will become a hit, but at the end of the day, there is no fun in that because it's not your original work. If you are talented, you should come up with your own creations.
Q: You aren't much heard today despite still having fabulous voice. Do you think, the age difference between you and the new generation of music directors and filmmakers is to blame for the lack of work?
Udit Narayan: For them, we have become seniors. They wrongly believe that we don't get what this generation wants, that we are out of touch with the listeners today. But that's not the case. Our shows wouldn't be successful if that was so. Thanks to the Internet, youngsters are rediscovering us. Young people sing along with me in my shows both here and abroad. I guess you can't fight perception.
Q: What is your message to Asianet Newsable readers and fans? It's been great talking to you and the Asianet team as well as our readers wish you luck!
Udit Narayan: Please continue to support my music, I am here, I am Udit because of the love and support of my fans. I want to thank you all for loving my music. Thank you. Please convey my love to my fans.
Last Updated Jul 5, 2020, 7:03 PM IST