Director Vivek Agnihotri announces new film 'Parva', based on SL Bhyrappa's novel
Director Vivek Agnihotri announces "Parva," an adaptation of the Kannada novel by SL Bhyrappa, at an event in Bengaluru. The movie offers a unique perspective on the Mahabharata and plans to release in Kannada, Hindi, and potentially English. The project's inception followed discussions between Bhyrappa and Prakash Belawadi, inspired by Agnihotri's work on "The Kashmir Files."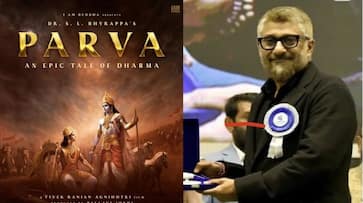 Renowned director Vivek Agnihotri, known for his impactful films like 'Kashmir Files and 'Vaccine War,' has unveiled his latest project, 'Parva.' The upcoming movie is an adaptation of the acclaimed Kannada novel "Parva" by Padma Bhushan awardee SL Bhyrappa. The film's poster was revealed at an event in Bengaluru, graced by SL Bhyrappa, Prakash Belawadi, producer Pallavi Joshi, and other dignitaries.
'Parva' is a multi-part cinematic rendition of the epic Mahabharata, offering a unique perspective through the personal reflections of the main characters. Director Vivek Agnihotri expressed his delight at the responsibility of bringing this modern classic to the big screen.

The Vaccine War: Vivek Agnihotri's film script earns invite to Oscar academy library; READ
The project's inception dates back to a conversation between SL Bhyrappa and Prakash Belawadi, who were impressed by Vivek Agnihotri's work, particularly 'The Kashmir Files.' After consulting with SL Bhyrappa and receiving his consent, Vivek Agnihotri embarked on the journey of bringing 'Parva' to life.
SL Bhyrappa, eager to see his novel come to life on the silver screen, commended Vivek Agnihotri's experience in the film industry. He emphasised the importance of portraying the true essence of the Mahabharata through the film, with plans for a Kannada and Hindi version. He also stated that there should be efforts to be made to make 'Parva' in the English language too.
Last Updated Oct 21, 2023, 2:42 PM IST