Dhoom director Sanjay Gadhvi passes away at 57; succumbs to heart attack
Acclaimed filmmaker Sanjay Gadhvi, known for 'Dhoom' and 'Dhoom 2,' passed away on November 19 due to a heart attack.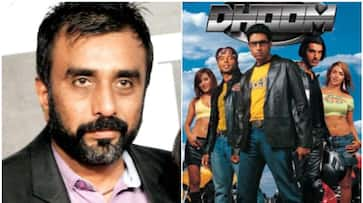 On the somber Sunday of November 19, the esteemed filmmaker Sanjay Gadhvi passed away, succumbing to a heart attack, as per reliable sources. Renowned for his directorial prowess, Gadhvi left an indelible mark on the cinematic landscape with his highly acclaimed works, notably the blockbuster films 'Dhoom' and 'Dhoom 2.' These cinematic gems, featuring the dynamic duo of Hrithik Roshan and Abhishek Bachchan in pivotal roles, not only garnered widespread acclaim but also achieved monumental success. 
As per accounts, Sanjay Gadhvi encountered intense chest pain during his morning walk along Lokhandwala Backroad. Manifesting profuse perspiration, he was promptly transported to Kokilaben Ambani Hospital, situated a mere one to one and a half kilometers away. Regrettably, he was swiftly declared deceased upon arrival at the medical facility. Currently, his mortal remains repose within the confines of the hospital, with a slated funeral ceremony scheduled for the evening of the 19th. The untimely demise of the acclaimed filmmaker has cast a pall of sorrow over the industry, as preparations are made to bid a final farewell to this creative luminary.
Sanjay Gadhvi directed movies like 'Mere Yaar Ki Shaadi Hai' and 'Kidnap' featuring Imran Khan. In 2012, he worked on 'Ajab Gazabb Love,' followed by 'Operation Parindey' in 2020.
Gadhvi began his directing journey with 'Tere Liye' in 2000, but unfortunately, it didn't get much notice. The film, initially titled 'Tu Hi Bataa' and starring Arjun Rampal and Raveena Tandon, faced a halt due to budget constraints. His breakthrough came with the 2004 action thriller 'Dhoom,' marking the start of his recognition in the film industry.
ALSO READ: Animal: Ranbir Kapoor teases Rashmika Mandanna; posing choice between him and Vijay Devarakonda on NBK show
Last Updated Nov 19, 2023, 12:49 PM IST