Chhatriwali trailer review: Fans in awe of Rakul Preet Singh for role in film educating youth about safe sex
Actor Rakul Preet Singh says her upcoming film Chhatriwali deserves special attention as it caters to the country's youth and educate them about safe sex. The makers revealed the trailer at a media event. Now fans can't stop raving about her performance in the trailer.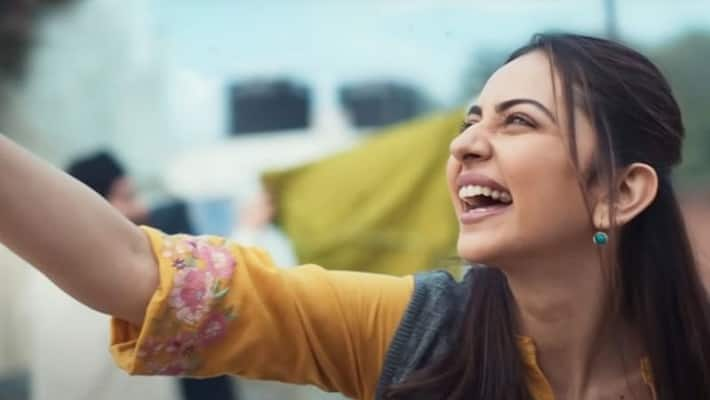 Helmed by Tejas Prabha Vijay Deoskar, Chhatriwali is a slice-of-life drama set in Haryana. The film features the actor as Sanya, a quality control head in a condom factory. The makers released the first trailer of the awaited film on Friday. For Rakul, who earlier featured in films such as De De Pyaar De, Sardar Ka Grandson and Doctor G, the movie turned out to be her dream project. She said, "Chhatriwali was that dream project where it checked all the boxes. Now with the trailer out, I hope our hard work pays off as this film deserves special attention and credit."
She added, "In today's patriarchal society, every household needs a Sanya who has courage to single-handedly fight against all odds, traditions, social norms, and barriers. Chhatriwali aims to deliver the message about the importance of male contraceptives and safe sex."
ALSO READ: Irrfan Khan Birth Anniversary: Babil shares lovely throwback pics wishing his late father a happy birthday
The trailer is unique. It tells the story of Sanya (Rakul Preet Singh), a quality control head in a condom factory. The town that she resides in is narrow-minded and orthodox. The thinking of the people there is so regressive that even the teachers do not feel educating youth and children about the importance of safe sex is a mandatory aspect neglected. She witnesses incidents in her in-laws' home after marriage which disturbs her as a human being. Then she decides to educate the children about safe sex and its importance. The trailer has successfully piqued the curiosity and has not given away anything more, making netizens and fans crave more. The film, Chhatriwali releases digitally on Zee 5 on January 20.
The trailer has been garnering mindblowing and rave reviews from fans and netizens on Twitter. Many social media users have shared that it is a quirky film and that Rakul has nailed her role.
"Rakul seems to nail the role of her female centric film," said a fan. "This film is a need of the hour, and yeah... Rakul is killing it," said another fan. "The way they are trying to address the issue in an entertaining way.... Best way to educate people!!," a fan added. "Such a quirky concept, and she is handling it like a pro kudos Rakul," a fan said. "Just watched the Chhatriwali Trailer. I'm already counting down the days until it's released. The blend of comedy and a powerful social message is just what I need," another fan added.
Trailer
The awaited trailer of Chhatriwali is out now. You can also watch it here.
ALSO READ: Salman's ex-flame Somy Ali makes 'Dabangg' misogyny claim; says superstar feels 'only men can cheat'
Last Updated Jan 7, 2023, 5:07 PM IST