Chandrayaan-3: Mamata Banerjee says 'Rakesh Roshan landed on the moon', sparks meme fest
On the occasion of Chandrayaan-3's landing, West Bengal Chief Minister Mamata Banerjee's inadvertent remark, mistaking astronaut Rakesh Sharma for filmmaker Rakesh Roshan became the catalyst for a cascade of amusing memes on Twitter. - By Mahasweta Sarkar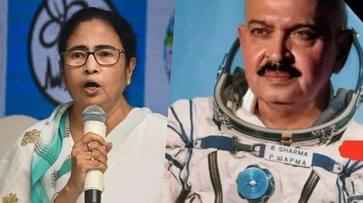 India marked a momentous occasion on Wednesday as the Chandrayaan-3 moon mission successfully landed near the south pole. This achievement prompted celebrations among billions of Indians worldwide, filling the air with pride. Notable figures including celebrities and politicians joined in, sharing statements about this iconic moment. However, West Bengal Chief Minister Mamata Banerjee's unintentional blunder generated a wave of humor on social media.
She mistakenly referred to astronaut Rakesh Sharma as filmmaker Rakesh Roshan, discussing his supposed moon landing. This gaffe ignited a meme fest online, as netizens playfully shared their amusement over the mix-up.
ALSO READ: Chandrayaan 3: Sushant Singh Rajput's lifelong dream of becoming astronaut trends online
Mamata Banerjee's faux pas
Speaking at a public event, Mamata Banerjee said, "On behalf of the people of West Bengal, I send my advance congratulations to ISRO. Scientists must get credit. Credit must go to the country. When Rakesh Roshan landed on the moon, former Prime Minister Indira Gandhi asked him how India looked from there."
The video of her speech quickly spread across social media, sparking a wave of memes that flooded the internet. Twitter users, in particular, seized the opportunity to create and share side-splitting memes centered around the West Bengal CM's remarks. One user wrote, "Mamta Didi, one of the PM candidate from INDIA alliance, is telling that Indira Gandhi talked to Rakesh Roshan in space. Somebody tell her that he was Rakesh Sharma not Rakesh Roshan. If there is such preparation, then Aayega to modi..."
Another user giving out the facts wrote, "#MamataBanerjee holding an important office does not know WCDR Rakesh Sharma was selected as a cosmonaut for the Soviet-Indian spaceflight. He never Landed on the MOON. She mixes his name & calls him Rakesh Roshan. Blunder in a hurry to discredit Modiji!"
However, the number of memes was in the majority. Take a look at some of the memes here:
About Chandrayaan-3 landing
On August 23, 2023, India achieved a significant breakthrough with the triumphant touchdown of Chandrayaan-3, its third lunar expedition. The Vikram lander module's successful landing at the lunar south pole marked a historic achievement, positioning India as the pioneer in landing on this uncharted lunar region. Notably abundant in water ice, the chosen landing site holds immense promise for exploration. The mission's objective revolves around a comprehensive study of the lunar south pole and its potential resources. Scheduled for a year-long duration, the mission encompasses the deployment of the Pragyan rover, poised to traverse the lunar surface and gather invaluable insights. The remarkable success of Chandrayaan-3 stands as a testament to the unwavering dedication and hard work of the ISRO team, carrying the potential to furnish crucial scientific knowledge about the Moon and its resources, with far-reaching implications for future human lunar exploration endeavors.
ALSO READ: Chandrayaan 3 mission is cheaper than Adipurush, Barbie, and Oppenheimer? Know details
Last Updated Aug 24, 2023, 1:56 PM IST