BTS' Kim Namjoon finally speaks up on 'bad religion controversy': says he's not going to apologise'
After sharing the song, Bad Religion, on his Instagram Stories, BTS leader RM aka Kim Namjoon responded to the criticism.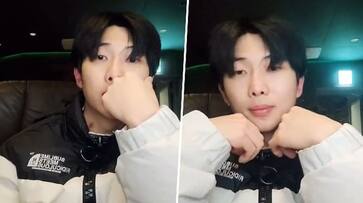 Finally responding to the criticism he received for releasing the song "Bad Religion" on his Instagram Stories, BTS leader RM aka Kim Namjoon opoened up on social media. For those who are unaware, Namjoonie just shared a song by Frank Ocean on his social media accounts, which caused a stir. Social media users objected to his tweet after pointing out that the song is anti-Muslim. Even an apology from him was demanded as soon as the song was out. The leader of Bangtan has made it obvious that he will not apologise, though. On Wednesday night, while hosting a Weverse Live, Namjoon made it clear that he didn't mean to offend anyone's religion. "Okay guys I know what you are talking about. You just keep telling me that I insulted a religion but I didn't. There was no any intention or like purpose to insult a religion. I respect every belief and every religion that's all I could say," the BTS member said.
Also Read: Jawan: Kamal Haasan praises Shah Rukh Khan, calls him 'symbol of love' and more
"I know what's going on in my Instagram, I can see. But I never…there was no such any purpose or at least one percent of my heart or intention to insult a religion okay? Guys (shakes his head), it's a song, okay? I am not apologising, I am just saying. I have my own soul. I am 30 years old. I can express my truth. Please a word is a word, believe my words from myself, not just guessing, pretending and assuming, okay?" he said. The rapper continued by saying that he is aware of his limitations and that his explanation will not be sufficient to persuade everyone. He emphasised, however, that he was not lying. "I just can't lie to you guys, I just can't." I'm being truthful. There are no issues; I'm fine, he declared. "I heard there was an issue and there were sounds nearby. Some individuals constantly bringing it up in conversation with me. Do not doubt me. I didn't want to talk about it, but I had to since right now I can't tolerate it. I had kept it inside. I'm just not able to handle that," Namjoon stated.
Also Read: Jawan: 7 reasons to watch Shah Rukh Khan's movies
Last Updated Aug 31, 2023, 1:01 PM IST