BTS Jimin, Taeyang starrer collab VIBE is out, fans hail, 'That's a bop'
After teasing global BTS ARMY and Big Bang fandom with the first look posters and teasers of the song, the much awaited collab, starring BTS Jimin and Big Bang member Taeyang, VIBE, is out now. The foot-tapping number VIBE has got released today. And the fans have been giving rave reviews about the collab on Twitter.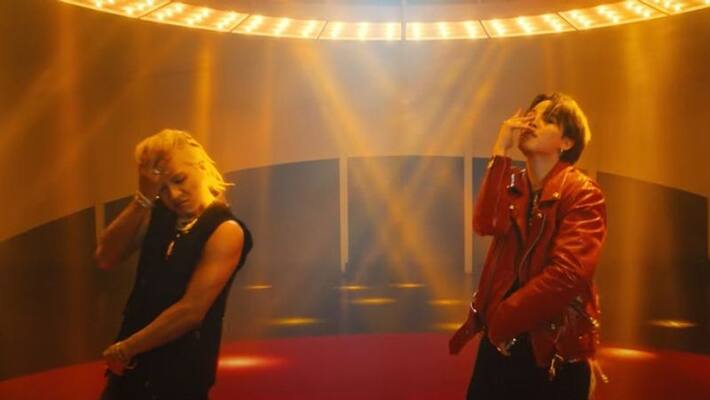 Big Bang member Taeyang and Jimin of BTS recently announced their first collaboration VIBE. The music single, features Taeyang and Jimin in the music video. The song has a thorough hip-hop, rock feel to it. In the song, we can see how effortlessly both Taeyang and Jimin voices blended and complimented each other.
The music video starts with Taeyang ending the first chorus with suave moves and lyrics that will get your foot tapping instantly. "I feel it. It is a vibe," Taeyang softly breathes before Jimin takes over with his silky smooth and captivating voice. The duo then come together to charm us with their vocals that hit a different note towards the end. The choreography and dance moves in the song VIBE are pretty simple and bouncy.
ALSO READ: Urfi Javed slams Sadhguru on Instagram over LGBTQ views - READ
The flawless dance moves by both Taeyang and Jimin throughout the song, goes with the feel and setting of the music single. It is a song describing attraction. Also, when it is Taeyang and Jimin onscreen, it is indeed a vibe.
This collab is a big gift for the Jimin global fandom and the ardent BTS ARMYs who had been awaiting the release of Jimin's collaboration since he had hinted about the same in many of his V live sessions on the Weverse app. Meanwhile, this is the first time Taeyang and Jimin have come together. Jimin had always mentioned that he would love to collaborate with Taeyang one day, and it has finally happened. It is the first song of K-pop icon Taeyang with the subsidiary label of YG, The Black Label. He changed his agency recently. With Vibe, Taeyang also returns to music after a six years hiatus.
"Thats a bop," said a fan. "So good to see Taeyang in action. Also nice to see Jimin picking up the vibe from his sunbaenim. It is a fun collab," a fan said. "JIMIN VOICE, OUTFIT, AND MOVES???? AAAHHHHHH," a fan shared. "OUR SOULKING IS BACK," shared a fan. "Omg. His vocal, and this is a bop Vibeeeeee!," a fan said.
VIBE also marks the first solo release of Jimin after the group announced that they want to focus more on individual schedules in the coming year. RM, J-hope, and V have already shared their love for Vibe on Instagram.
The music video for BTS Jimin and Taeyang starrer VIBE is out. You can also watch it here. The song has already garnered 2 million views in just three hours.
ALSO READ: Exclusive: Satyameva Jayate star Aisha Sharma reveals her fitness, beauty secret; tells how to handle trolls
Last Updated Jan 13, 2023, 1:49 PM IST