BTS Festa 2023: K-Pop septet reunite for 10th anniversary, with surprises for ARMY - WATCH
Before commencing their much-awaited tenth-anniversary celebrations, the Grammy-nominated K-pop septet BTS reunited together under a single roof to describe their love for BTS ARMY by doing a fun activity that can make their fans smile. The fun and exciting video has gone viral on Youtube. Scroll down for more details.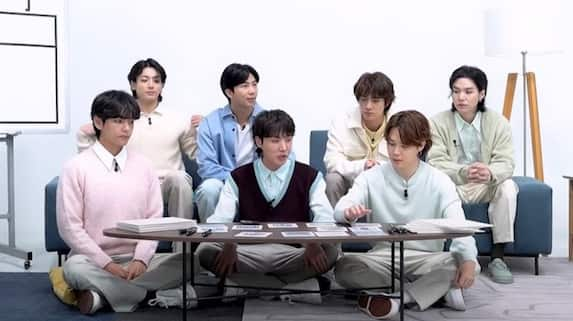 It is an exciting time for the globally prominent K-Pop band BTS and their beloved BTS ARMYs all across the globe. BTS as a band has marked a glorious decade that traced their journey from being rookies to becoming the globally dominating musical band and the members becoming widely revered and celebrated musical icons who have garnered immense love, accolades and an abundance of rave reviews from their dedicated fans. BTS calls their devoted fans collectively as ARMY. 
Not many might know this, but BTS ARMY is globally one of the most active fandoms that always unite together in various ways to raise funds and gather that amount, then give it to so many social causes. The ARMYs have seen the entire transitional journey of BTS from being rookies and novices in the Korean and global music industry to becoming world-wide prominent and loved K-pop icons and superstars.
ALSO READ: Fast X: Witness blend of action-music in 'Angel Pt. 1' featuring BTS star Jimin
In an ode to giving it back to the ARMYs and also mark their ten glorious years as trendsetters who have changed the global music scenario and are dominating the music scene right now. This specific celebration of BTS with BTS Festa 2023 is more special since it marks ten glorious years of their inception as a band and also will be giving their love to the ARMYs.
The BTS Festa 2023 is said to be running from June 12 to June 25, painting the city of Seoul in Purple, which is BTS' representative colour, this particular branch of it will be conducted in Yeouido.
BangTan TV, BTS's official YouTube channel, dropped a new video a few hours back in which BTS has reunited as a band after a long time and is sitting down to discuss ideas of what to do this year for their Festa celebrations.
BTS members are discussing their kick-ass ideas and strategies on how can all of them make it more remarkable for the ARMYs and themselves. BTS leader RM aka Kim Namjoon is revealing that this time they want to be the ones to celebrate the ARMYs and also their birthday as a band by making creative and unique-looking ads that can get displayed at various places in Seoul as a part of their BTS Festa celebrations. The BTS band then starts drawing their advertisement ideas on paper. The most quirky and creative ones get displayed by Jungkook on the whiteboard.
Besides, BTS has the most-awaited surprise in store for ARMYs. Their much-awaited new song titled 'Take Two' will be dropped globally on June 13, 2023. The audio version of 'Take Two,' the song will be revealed today, June 9.
ALSO READ: Drew Barrymore breaks silence on 'fake' media reports which claim she wants her mother 'dead' - WATCH
Last Updated Jun 9, 2023, 12:33 PM IST